On Sunday 1 December, Islamist gunmen opened fire on a service in the Evangelical Church of Hantoukoura, killing 14 people and injuring several others. The photo shows women and children who survived the attack.
The dead, including the pastor, Tchintchiéba Ouoba, a 12-year old boy and four teenagers, were all male members of the Ouoba family; the attack leaves only one male survivor in the entire congregation. The gunmen fled on motorbikes, and no group has claimed responsibility for the attack. Hantoukoura town is in Foutouri district, Komondjari province, near the border with Niger.
Tambougou Adjima, leader of an evangelical church in Fada N'gourma city was in shock when he spoke to a Barnabas Fund contact on 2 December. Crying for ten minutes before he could speak, he said that survivors had called to tell him about the attack. "Eighty members were gathered there including 15 men, the rest were women and young children," he said. "Of the 15 men, 14 were killed in cold blood on the spot, when the attackers burst in shouting 'Allahu Akbar'. Only one man among the 15 escaped this act of barbarism."
Burkina Faso's president Roch Marc Christian Kabore condemned "the barbaric attack" and tweeted on Sunday night: "I offer my deepest condolences to the bereaved families and wish a speedy recovery to the wounded." The government said in a statement that Burkina Faso's armed forces were caring for the wounded and searching the area.
Increasing Islamist violence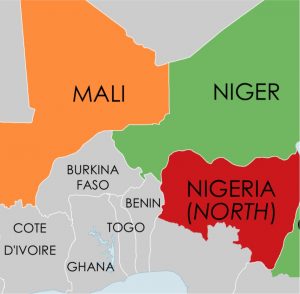 Traditionally, Burkina Faso has enjoyed peace between its majority Muslim community (approximately 60 percent of the population) and its Christians (23 percent); about 15 percent of the population follow traditional religions.
Since 2015, however, Islamist groups affiliated to al-Qaeda, Islamic State and local organisation Ansarul Islam have been spreading from the north, with many armed terrorists crossing the porous border from neighbouring Mali and targeting schools, churches and institutions such as police stations. In December 2018, President Kabore declared a state of emergency in several northern provinces bordering Mali, but in 2019 half a million Burkinabe have been forced to flee their homes. Attacks have spread east in recent months, and Islamist militants are now in control of some eastern areas.
Many churches in the north have closed to prevent further attacks, and Open Doors reports that extremists have started expelling Christians from their villages, giving them an ultimatum: convert to Islam or leave. Many thousands of Christians are now living in camps for internally displaced persons or have sought refuge with family and friends.
Pastor Samuel Sawadogo, who cares for displaced Christians in the city of Kaya, Sanmatenga Province, told Open Doors, "We don't know who the attackers are, neither do we know who is sponsoring them. All we know is that they attack Christians. These attacks have shattered the lives of our people. We are troubled and filled with pain over the deaths of our family members."
Among the dozens of Christians killed this year, sixteen were killed in a series of attacks in April and May.
(Africa Center for Strategic Studies/Africa News Network/Barnabas Fund/International Christian Concern/Open Doors)
Share this