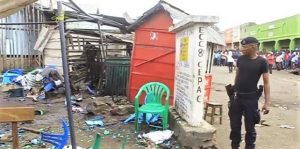 On Sunday 15 January at least seventeen Christians were killed and twenty others seriously injured in a bomb attack carried out by suspected Muslim militants on a Pentecostal church in Kasindi in DRC's northeastern province of North Kivu. The church was crowded on the Sunday morning of the deadly explosion as a baptism service was taking place organised by Community of Pentecostal Churches in Central Africa.
Church elder Paluka Kivugha said that two men had entered the church building and left a bag, which contained an improvised explosive device that detonated soon afterwards. One of the first responders, a pastor of a nearby church, described the aftermath of the attack: "Limbs and other body parts are scattered everywhere as more dead bodies are being retrieved from the rubble. Many people have been injured, and they are being evacuated. We are not able to ascertain how this attack happened or how many Christians have been killed, but I can confirm that this is a gruesome terrorist attack."
One survivor spoke of what they saw: "We are in deep shock and confusion. We were on our third and last day of the New Year's prayers and service to witness the baptism of sixty new Christians from our different branches. The church was filled to capacity, and others were seated outside. I survived because I was sitting on the other side of the congregation, right opposite the side where the bomb exploded."
According to Reuters, Islamic State (IS) claimed responsibility for the bomb attack and it was reported that a Kenyan national was arrested in connection with the attack. A Congolese military spokesperson, Anthony Mualushayi, said he suspected that the Allied Democratic Forces (ADF, a rebel group affiliated with IS) was behind the church attack.
The ADF was originally based in western Uganda and has operated in the DRC's North Kivu province near the border with Uganda since the late 1990s. It pledged allegiance to the Islamic State in 2019. ADF is suspected to have carried out widespread attacks targeting Christian villages, health clinics and pastors. The ADF is one of several armed groups involved in ongoing conflicts in the east of the country. Rwanda has been accused of supporting some of the rebel groups. According to the United Nations, over two million people have been internally displaced due to the conflict.
(International Christian Concern, Morning Star News, Open Doors, Religion News Service, Religious Liberty Prayer Bulletin, Reuters)
Share this