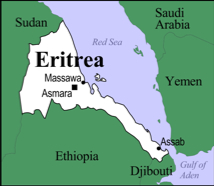 The Eritrean authorities have arrested 39 secondary school students (28 boys and 11 girls) and are punishing them for their Christian faith, excluding them from a graduation ceremony and subjecting them to beatings and hard labour at Sawa military training centre, near the Sudanese border.
The students were arrested after completing their compulsory four-month military training. After completing school, all Eritreans are required to participate in national service. The 39 students were among 17,000 students of the 26th national service intake who graduated on 13 July. Graduating students then continue to Senior Secondary School to complete grade 12, their final year.
According to an Open Doors press statement, "The youths are now enduring beating, forced hard labour and insufficient food and water… Sources said authorities are also threatening the students with long imprisonment and exclusion from university should they 'Äòfail to renounce Christ.'"
Another group of at least 37 students was arrested from the College of Science in Adi Kihe in May and imprisoned at the military camp in Dekemhare. The students have inadequate food, sanitation and medical care and are reportedly being tortured.
Christian dies in prison
Yosief Kebedom Gelai (41), who recently became a Christian, died in Medefera incarceration centre on 5 July 2013. He had been sick for a long time, but the harsh treatment he received aggravated the effects of his unknown disease.
A single man, Yosief was originally from the capital, Asmara. He went to teach at a primary school in Mendefera, and six months after his arrival he became a Christian. Yosief's devotion to Bible study and prayer caught the attention of representatives of the ruling Eritrean People's Front for Democracy and Justice at the school. The authorities arrested him in December 2012 and took him to the secret incarceration centre, which holds many religious prisoners, where he was kept incommunicado.
Fourteen women arrested
Women have become the latest target of a widespread arrest campaign against evangelical Christians. Over two weeks in June and July 2013, the authorities in two separate incidents took fourteen Christian women into custody for religious activities outside of the authorised religious institutions.
In the first incident, the authorities arrested nine students at the Academic Centre at Sawa and imprisoned them. In the second, security officers arrested five women at their homes in Debarewa, a small town 29 kilometres south of Asmara, after being informed that they are evangelical Christians. It is believed that they are being held at a police station.
The arrests follow the government's call, at the recent National Women's Association conference, for attendees to use all possible means to stop the influence of evangelicals. The government regularly incites the population against evangelicals through national media, accusing them of acting as agents for foreign groups intent on undermining the Eritrean nation.
An 85-year-old woman who was arrested in February, Mama Hajer, is being held in a metal shipping container at Mai Serwa military training camp. She is suffering from pneumonia but is refusing to denounce her faith in Christ in exchange for urgent medical attention.
Background
Since 2002, worship outside the government-sanctioned Sunni Muslim, Eritrean Orthodox Church, Roman Catholic Church and Evangelical Lutheran Church of Eritrea has been forbidden. In 2005, the authorities also began persecuting the Eritrean Orthodox Church, particularly those in its renewal movement.
The death of Yosief Kebedom Gelai is the 24th reported death connected to punishment for religious activities. However, because of the government's secrecy surrounding prisoners, there may be many unreported deaths.
It is estimated that about 1,500 Eritrean Christians are in prison for their faith. They are held in appalling conditions, in shipping containers in desert camps or in underground cells, and torture is routine. Since the beginning of 2013, 205 Christians have been arrested.
(Mission Network News, Morning Star News, Open Doors)
Share this