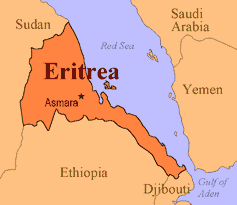 91 Christian prisoners were released on 6 August, the day after a worldwide day of prayer organised by a coalition of Eritrean Christians.
The Christians were amongst 250-300 guests arrested at a wedding in Asmara on Saturday 28 May 2005. They were initially detained at Asmara's 5th Police station, and were subsequently transferred to Adi Abeito military prison.
The Christian prisoners were then taken to a detention centre in Wi'a, one of the hottest places on earth. Among those who were taken there were Essey Estifanos (a gospel singer) and his friends.
Wea detention centre is situated in one of the hottest spots in the world and was originally used by Italian Colonisers as a place of harsh punishment. The current government of Eritrea is known to use Wea routinely to punish young people who exhibited any form of rebellion. In the summer of 2001 around 2,000 university students were detained there for over a month. Two students died as a result of sunstroke, others still talk of the horrors that they encountered there.
The prisoners were finally moved to Sawa Military camp, where they were eventually released.
While the number of Christian prisoners in Eritrea is constantly fluctuating – with many arrests and releases, it is estimated that there are currently over 400 Christians being detained. They are all being held without charge – in police stations, prisons, military camps and containers. (CSW/Release Eritrea)
Share this