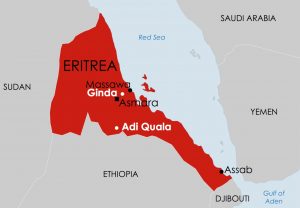 The Eritrean security forces have arrested almost one hundred Christians in the past month.
On 21 May, 49 evangelicals were arrested outside the capital, Asmara, at a post-wedding Hamauti celebration. A Hamauti takes place a week after the wedding at the couple's home, for friends and relatives to eat, sing, dance and pray together. The bride (name not released) and groom (Tedro Negel), in their late 20s, were among those arrested.
On 17 May, security officials arrested more than 35 Christians from their homes in Adi Quala, a market town 25 km from the Ethiopian border in Eritrea's Southern Region. They are being held in cells in the local police station. The arrests came after security officials accompanied by representatives of the Eritrean Orthodox Church started a house-to-house search on 15 May.
A group consisting of an Orthodox Church official, an assistant, a local administration officer and a security official visited every home in Adi Quala. They told residents they were verifying food vouchers, but when residents presented their vouchers, the officials made all family members assemble and say whether they were Muslim, Jehovah's Witness, Orthodox, Lutheran Church, Catholic or Pentecostal. The next day, the security officers went door-to-door in Adi Quala to arrest all who said they were Pentecostal.
A source told World Watch Monitor that similar searches were conducted in several parts of the Central Region, and said: "Those who identified themselves as Pentecostals in the Central Region have not been arrested but the level of fear amongst the believers has greatly increased."
On 9 May, officials arrested ten Christians from a home in Ginda, northeast of Asmara. The four women and six men are being held at Ginda Police Station. Sources said neighbours had reported to local town leaders that Christians were holding meetings.
In 2002, the Eritrean government closed all churches except Eritrean Orthodox, Catholic and Lutheran. Since then, members of illegal churches have met in secret in people's homes, but the authorities target them and have raided countless Christian homes. Members of permitted churches are also at risk if they criticise the regime. Read more about the persecution of Christians in Eritrea.
On 18 May, David Turner travelled to London to represent Church in Chains at the annual vigil at the Eritrean Embassy. Read his report of the vigil, Standing in solidarity with Christian prisoners.
(World Watch Monitor)
Share this