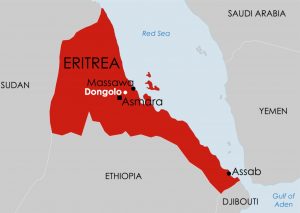 The Eritrean security forces have continued their renewed crackdown on Christians around the country by arresting another 22 Christians – 17 in the capital, Asmara, and 5 in the town of Dongolo.
In the Godaif district of Asmara, 17 Christians were rounded up on 28 May.  Forty-five others, mostly women, had been rounded up a week earlier in another part of the city as they gathered at a Hamauti celebration arranged by a recently married couple. A Hamauti takes place a week after the wedding at the couple's home, for friends and relatives to eat, sing, dance and pray together.
Further arrests are anticipated as local district committees, composed of members of the security services, the ruling party, the local administration and the Orthodox Church, continue their house-to-house inquiries. Christians in the city have begun a period of prayer and fasting for peace and safety.
A further five Christians were taken from their homes in the town of Dongolo (52km north east of Asmara) on 6 June. It is not known if these arrests were linked to the earlier arrest of ten Christians from a home in the nearby town of Ginda.
UN SPECIAL RAPPORTEUR ON ERITREA PRESENTS LATEST REPORT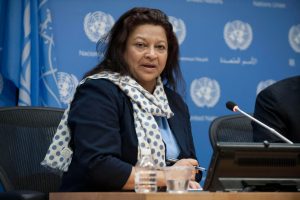 Also in June, Sheila B. Keetharuth (pictured), the United Nations Special Rapporteur on Eritrea, presented her latest report to the United Nations Human Rights Council. She warned that Eritrea must stop delaying action to tackle the severe human rights abuses meted out to its citizens. "I regret to report that, as of now, the Government has made no effort to end ongoing human rights violations, which the Commission of Inquiry on Human Rights in Eritrea described as amounting to crimes against humanity," she said.
Ms Keetharuth noted that, "The practice of arbitrary arrest and detention of individuals based on their religious belief continues," and referenced the arrest of Christians in Ginda and Adi Quala in May 2017, as well as the continuing detention of Patriarch Antonios of the Eritrean Orthodox Church. Amongst the report's recommendations is a call for the immediate and unconditional release of "all those unlawfully and arbitrarily detained, including members of the G-15 [politicians], journalists and members of religious groups".
On 23 June, the United Nations Human Rights Council extended Ms Keetharuth's mandate as the Special Rapporteur for Eritrea by a further year.
(CSW, Open Doors, UNHRC)
Share this