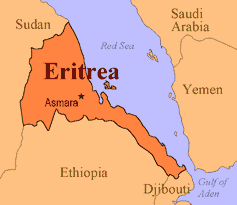 37-year-old Azib Simon died of malaria in Eritrea's Wi'a Military Training Camp last week. She had only contracted the disease one week previously. Sources say that her body had been weakened by ill-treatment and torture. Sources also said that the authorities had refused to provide treatment for her malaria.

Azib had been held at the notorious Wi'a camp, 20 miles south of the Red Sea port of Massawa, since her arrest in December 2007. Christians in this prison are under constant pressure to recant their faith.

Azib was arrested because she attended the Kale-Hiwet Church in Assab, one of the independent evangelical churches that was closed by government order in 2002. She was the sister of former Eritrean television journalist Biniam Simon, who recently fled the country after abandoning his career at government controlled ERI-TV.

Christians continue to be arrested across Eritrea. On 8 July, six members of the Kale-Hiwet Church, 11 members of the Full Gospel Church and 15 members of the Rema Church were arrested at their homes in the southern city of Assab one by one. They have also been imprisoned in the Wi'a military camp. Among them were seven women, one of them a known evangelist of the Kale-Hiwet Church in Eritrea, whose name was withheld for the safety of her family.

Eritrean authorities also arrested nine leaders of a Jehovah's Witnesses group on Wednesday 16 July in Asmara, capital of Eritrea. (Compass Direct)

It is estimated that at least 2,000 Christians remain in prison without charge in the country – held in police stations, military camps and shipping containers.

The Eritrean government continues to deny the existence of religious persecution in the country. This was most recently stated last week by the Eritrean Ambassador to the UK and Ireland, Mr. Tesfamichael Gerahtu. During a meeting in Dublin with CCFC, Mr. Gerhatu stated that Eritrea was a model country of tolerance between religions and dismissed all reports of persecution as biased, exaggerated and sensational.
Share this