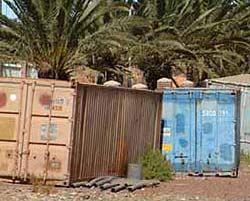 On Sunday 9 January, security police swooped down on a wedding ceremony being held in Barentu, a town in western Eritrea, arresting the 67 evangelical Christians present. Participants had been escorting the bride to the wedding venue when police intervened and took them all to prison, including the wedding couple.
Reportedly the 67 prisoners were to be taken to the notorious Sawa Military Training Center for "military punishment." Many prisoners there are detained in metal containers (similar to those in picture)Local sources said it was "very disturbing" that a number of elderly people and young children were among those jailed.
This method of imprisonment first came to notice in 2002 when news emerged that Pentecostal Christians performing military service at the Sawa Military Camp had been "caught" reading their Bibles or praying in small groups.
The experience of these soldiers has been repeated many times over during the past three years as police Рeager to enforce the ban on "illegal religious groups" Рhave arrested more and more evangelicals.
Amnesty International reports, "Prisoners held in shipping containers are locked up for almost 24 hours a day. Children are held with adults. Containers, which contain no cell furniture, are overcrowded and become extremely hot and suffocating during the day and very cold at night, with little room to sleep or move. The conditions are unhygienic and infectious diseases spread rapidly, especially through absence of toilet facilities and the prevalence of diarrhoea among prisoners forced to use a bucket inside the container for a toilet. One former prisoner told of detainees being forced to lie in diarrhoea as a punishment."
Over 500 Christians are currently imprisoned in Eritrea.
Share this