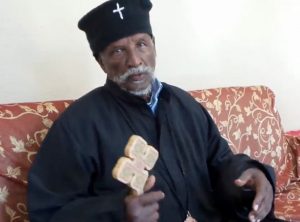 The 92-year-old head of the Eritrean Orthodox Church, Patriarch Antonios, has been accused of heresy by five pro-government bishops, in a letter in which they also stripped him of all official authority.
The move has prompted concerns for the patriarch's well-being despite assurances from the bishops that he would continue to be provided with food and shelter. Patriarch Antonios is severely diabetic and suffers from high blood pressure.
The elderly patriarch has been under house arrest since January 2006 when the Eritrean government deposed him after he resisted government interference in the church and asked for the release of some Christian prisoners.
The patriarch lives in two rooms in servants' quarters in the grounds of a villa occupied by two pro-government bishops, including Bishop Lukas (one of the signatories of the letter). It is thought that these arrangements were put in place to subject the church leader to daily humiliation. He is reported to be sleeping in one room and receiving visitors in the other. Church sources state that while he is able to receive occasional visitors, he is not permitted to discuss his situation with them.
However, in a video smuggled out of Eritrea in April 2019, Patriarch Antonios said his fellow clergy had abandoned him and did not care for his health or wellbeing. He also criticised the fact that the church was currently being led by a layman.
It is thought that the video message may have prompted the bishops' letter, which stated, "His name should never be mentioned and remembered and those who do will be punished severely."
Case raised at White House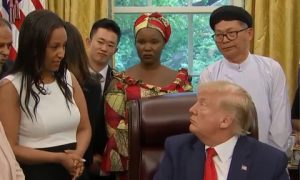 On 18 July, the patriarch's case was highlighted by Eritrean gospel singer and former prisoner of conscience Helen Berhane, who was invited to speak at the 2nd Annual Religious Freedom Ministerial in Washington DC, convened by the US State Department.
Helen, who was arrested in 2004 and imprisoned for almost three years, visited the White House along with other survivors of religious persecution from across the world.
Helen spoke directly to President Trump in the Oval office and said: "My name is Helen. I'm from Eritrea. I'm a gospel singer. I was held for 32 months in a metal shipping container because of my faith. But the reason I am here – all our pastors, they are still in prison in Eritrea, including the Patriarch Abune Antonios. So that is my message. I am a voice for those voiceless." President Trump thanked her for her comments.
United Nations renews mandate of Human Rights Rapporteur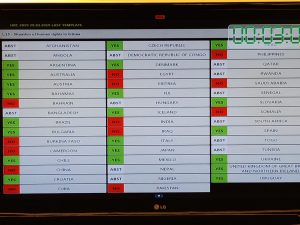 Earlier in July, the United Nations Human Rights Council voted to extend the mandate of the Special Rapporteur on the situation of human rights in Eritrea for a further period of one year, to continue to assess and report on the situation of human rights in the country.
The Eritrean government, which is currently a member of the Human Rights Council, had campaigned vigorously to oppose the renewal of the mandate, describing it as a "relic from a bygone era of confrontation in the Horn of Africa." The Eritrean government has consistently refused to cooperate with successive mandate holders and has refused permission for them to visit the country.
The current rapporteur, Daniela Kravetz, recently called on the Eritrean government to respect citizens' freedom of religion and to "release those who have been imprisoned for their religious beliefs". She also pointed out: "These actions show that, despite the improved regional climate for peace and security, the human rights situation in Eritrea remains unchanged."
 (BBC/CSW/Premier)
Share this