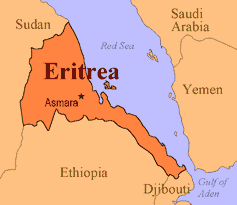 A Coalition of Eritrean Christians has called for the worldwide Christian community to join them in a day of prayer and fasting on Friday 5 August – to remember the estimated 500+ Christian prisoners in Eritrea.
The 'Day of Christian Prisoners' is scheduled for Friday 5 August and has been organised by Erishalom.com, a website run by a coalition of Eritrean Christians, some of whom work underground in Eritrea, while others are part of the Diaspora.
The organisers were moved to call the Day of Prayer after noting that throughout the Bible 'whenever Christians are in any kind of difficult situation the whole Church would pray as one with out ceasing'. Encouraged by this discovery, they have requested similar action on behalf of Eritrea's detained Christians.
The most recent arrests came when Eritrean security forces detained 18 college students, all evangelical Christians, on Friday 8th July. The students were from Halhale College, some 20 miles from Asmara. In what appears to be a pre-planned operation, unlike previous mass detentions, the officers approached each student as they left exam halls, following their finals.
In a separate incident, on Wednesday July 6th, Semere Zayid, a university lecturer (detained earlier this year) disappeared following a visit to report at a police station.
In late June security forces in the capital, Asmara, detained around 80 high school students (50 girls and 30 boys) at an end of term party held in a public park.
Dr Berhane Asmelash, Director of Release Eritrea, said 'the arrests obviously alarm me both in the fact that more people are being arrested but also I am worried about the fact that young people are being targeted in quite an organised manner, and detained even when they are going about their peaceful activities'. (Release Eritrea)
Share this