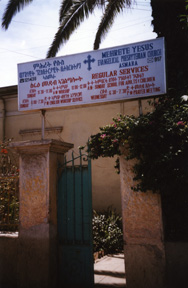 Eighty worshippers were arrested when police raided Mehret Yesus Church in Asmara, capital of Eritrea, at the end of a worship service on Sunday 29th April. Following the raid Pastor Zecharias Abraham and around 80 of his parishioners were detained. Among the worshippers on the day were some foreign nationals – including an American couple (who have since been released).

Mehret Yesus Church was one of the few churches that had escaped the decree that closed down all churches not belonging to the Orthodox, Catholic and Lutheran Churches of Eritrea, five years ago. Founded by former Sudan Interior Mission staff and affiliated with the Orthodox Presbyterian Church, the indigenous Mehrete Yesus Church has existed in Eritrea since the late 1940s.

At the time of his detention Pastor Zecharias was serving as the current head of the Eritrean Evangelical Alliance, following the arrest of Haile Naizghi who has been imprisoned since May 2004.

All of the Eritrean worshippers who were arrested remain in prison. They include many women and a church elder named Mikias Mekonnen.

At least 2,000 Eritrean Christians now under arrest without trial or legal charges solely for their religious beliefs. The prisoners include dozens of pastors and priests incarcerated in jails, police stations and military camps in 14 different cities and towns, some of them for more than three years. In the last nine months alone, three Christians are known to have died from severe mistreatment while under arrest.

Eritrean security forces began a harsh crackdown against the country's evangelical Protestant community five years ago, outlawing all churches not under the umbrella of the Orthodox, Catholic or Evangelical Lutheran denominations.

Since May 2002, anyone caught worshipping outside the government-approved religious institutions, either in church buildings or in private homes, has been subjected to arrest, torture and extreme pressure to deny their faith. Even weddings and other social activities held within Christian communities have been raided and the participants hauled off to jail. (Compass Direct, Release Eritrea)

On Thursday 31 May, CCFC will join with Christian Solidarity Worldwide and Release Eritrea! in a vigil outside the Eritrean Embassy in London to highlight the continuing imprisonment of Christians in Eritrea and to renew their call for religious freedom.
Share this