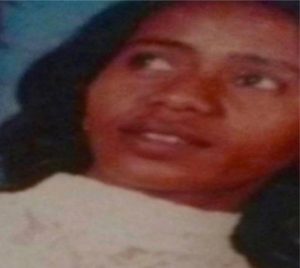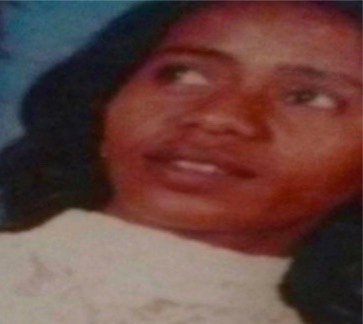 Fikadu Debesay, who was detained with her husband in May during raids on evangelical Christians in the southern town of Adi Quala, has died in prison. She died of untreated kidney disease.
The mother of three died last week in Metkel Abiet, a desert camp situated between the towns of Gahtelai and Shieb in the Northern Red Sea Region, a location known for its oppressive heat and aridity. She was buried on 10 August in Mendefera.
On 17 May, security officials arrested Fikadu, her husband and more than 33 other Christians from their homes in Adi Quala, a market town 25 km from the Ethiopian border in Eritrea's Southern Region. The arrests came after security officials accompanied by representatives of the Eritrean Orthodox Church started a house-to-house search on 15 May.
A group consisting of an Orthodox Church official, an assistant, a local administration officer and a security official visited every home in Adi Quala. They told residents they were verifying food vouchers, but when residents presented their vouchers, the officials made all family members assemble and say whether they were Muslim, Jehovah's Witness, Orthodox, Lutheran Church, Catholic or Pentecostal. The next day, the security officers went door-to-door in Adi Quala to arrest all who said they were Pentecostal.
A source told World Watch Monitor that similar searches were conducted in several parts of the Central Region, and said: "Those who identified themselves as Pentecostals in the Central Region have not been arrested but the level of fear amongst the believers has greatly increased."
Crackdown
Fikadu Debesay was one of at least 210 Christians rounded up and detained in desert camps and military facilities since May, when the security forces began a campaign of house-to-house raids targeting members of non-sanctioned churches in several towns across the country. Most were taken during raids on their homes, while a few were arrested at prayer meetings.
In May and June, the military detained at least 170 Christians in the capital Asmara and seven other towns. In May alone, almost one hundred Christians were detained, including 49 evangelicals at a marriage celebration in Asmara.
Of those detained in May and June, 33 women are being held in Nakura, a notoriously harsh island prison in the Red Sea established by Italian colonialists in the late 19th century to intern political prisoners. Many are reported to be young mothers whose husbands are military conscripts; their arrests have left fifty children without parental care. A woman who was arrested at her home in Nefasit in early June is reported to have become mentally ill as a result of the harsh prison conditions.
In July, 16 female national service conscripts in their late teens were taken from their place of assignment in Adi Halo, a village 32 km from Asmara, and detained in Metkel Abiet camp. Their hair was forcibly shaved off in what local sources described as an additional sign of humiliation. Other Christians and family members who tried to visit the detainees were also imprisoned.
During the first week of August, 23 Christians were rounded up in Asmara and taken into detention.
In May 2002, the Eritrean government closed all churches except Eritrean Orthodox, Catholic and Lutheran. Since then, members of illegal churches have met in secret in people's homes, and even members of permitted churches are at risk if they criticise the regime.
European Parliament resolution
On 6 July 2017, the European Parliament passed a resolution condemning in "the strongest terms" the "systematic, widespread and gross human rights violations" in Eritrea. The resolution said Eritrea has "one of the worst human-rights records in the world, with routine human-rights violations taking place every day". It highlighted the rise in "harassment of and violence against those practising religious faiths" since 2016, and called for the Eritrean government to put an end to the "detention of the opposition, journalists, religious leaders and innocent civilians".
UN Special Rapporteur on Eritrea presents report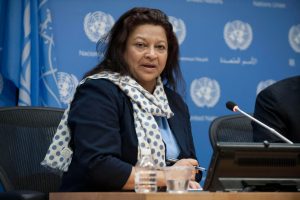 In June 2017, United Nations Special Rapporteur on Eritrea Sheila B. Keetharuth (pictured) presented her latest report to the United Nations Human Rights Council. She warned that Eritrea must stop delaying action to tackle severe human rights abuses, saying: "I regret to report that, as of now, the Government has made no effort to end ongoing human rights violations, which the Commission of Inquiry on Human Rights in Eritrea described as amounting to crimes against humanity."
Ms Keetharuth noted, "The practice of arbitrary arrest and detention of individuals based on their religious belief continues," and mentioned the arrest of Christians in Ginda and Adi Quala in May 2017 and the continuing detention of Patriarch Antonios of the Eritrean Orthodox Church.
Among the report's recommendations is a call for the immediate and unconditional release of "all those unlawfully and arbitrarily detained, including members of the G-15 [politicians], journalists and members of religious groups".
Read more about the persecution of Christians in Eritrea.
(Christian Solidarity Worldwide/UNHCR/World Watch Monitor)
Share this