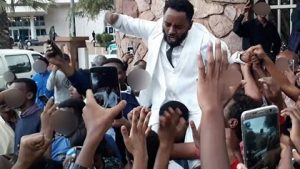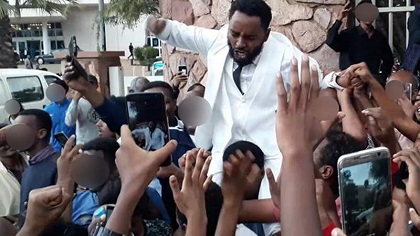 The signing of a peace agreement in July by Ethiopia's new Prime Minister Dr Abiy Ahmed and Eritrean President Isaias Afewerki raised hopes that human rights in Eritrea would begin to improve. Since then, however, at least five Pentecostal Christians have been arrested in the capital, Asmara, and several other Christians have gone into hiding. They had gone to the airport to welcome a visiting Ethiopian preacher.
Ethiopian Airlines resumed flights to Eritrea on 18 July, with well-known Ethiopian Pentecostal evangelist Pastor Surafiel Demissie on the first flight. He was travelling to visit a group of evangelicals, and is pictured preaching an informal sermon on a street in Asmara.
Hundreds of Eritrean Christians welcomed the pastor at the airport with dancing and singing, but some Christians expressed concern that the authorities might identify and punish "underground" Christians who were present, and this has turned out to be the case: the BBC reported on 9 August that at least five Christians who welcomed Surafiel Demissie have been arrested and that several others have gone into hiding fearing arrest.
While Christians from the Eritrean Orthodox, Roman Catholic and Lutheran denominations are permitted to meet (with some restrictions), all other denominations are illegal and are ruthlessly suppressed by the government. Their members can only meet in secret, taking great care to avoid detection.
A relative of one of those arrested reported, "At first the police said they were arrested for blocking a road and would be released soon." He said it later transpired that the National Security Agency had arrested them. Those arrested have not appeared before a court, as is the norm in Eritrea, where prisoners of conscience, including members of banned churches, are not charged or tried in court.
It was reported that one person who was believed to be hosting the preacher was arrested at the airport and taken away, and that security agents in civilian clothes went hunting for other Pentecostal Christians who had attended the welcome event.
Kesete Beraki, who advocates for the release of those in detention, recently commented: "We were very happy when the peace agreement was signed between Ethiopia and Eritrea. We were hoping there would be changes in Eritrea too, but so far we have been disappointed."
A church leader in Eritrea told World Watch Monitor: "Don't think the government is changing. Yes, there are a few improvements. We are able at least to know where believers are being jailed. Their families and parents can send food to prisons. But, that doesn't mean everything has changed. We continue to meet secretly, and the surveillance is still in place."
(BBC/World Watch Monitor)
Share this