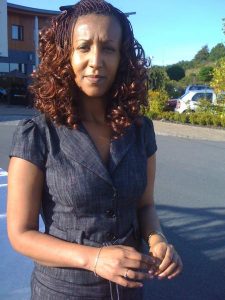 Helen Berhane, the Eritrean Gospel singer, spoke about her experiences as a prisoner in Eritrea at the Church in Chains Annual Conference in Athlone earlier this month.
Helen was the special guest at the conference and supporters were delighted to meet her in person (many of the large crowd had prayed for her during the 32 months that she was held prisoner in shipping containers).
Helen sang some of the songs that were an inspiration to her during her imprisonment and also spoke about how she coped with the dreadful conditions and the harsh treatment that was meted out to her. In answer to a direct question about whether she had ever been tempted to despair and to give up her faith, Helen simply answered "No". She said that she viewed the constant pressure exerted on her to sign a document recanting her faith as an opportunity instead to restate her faith.
Helen spoke vividly about daily life in the containers (exteme heat in day; extreme cold at night; claustrophobia; insufficient air; lack of privacy for toilet etc.) but also spoke about God answering her prayers for help by inspiring her to sing songs of praise and encourage other prisoners to do the same.
The conference also heard about the many other Eritrean Christians who remain in prison, the Eritrean church and the situation of Eritrean refugees in neighbouring countries.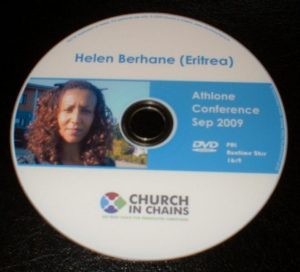 A 90 minute DVD of Helen speaking and singing at the conference is now available at a cost of €10 (Ireland) €12 (overseas). Contact vasb@puhepuvapunvaf.vr for more details.
Share this