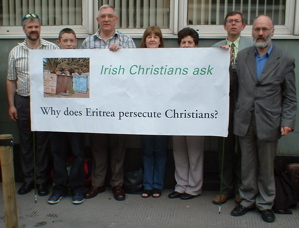 Around 90 people (including a group of Irish Christians) gathered yesterday at the Eritrean Embassy in London to highlight the continuing imprisonment of hundreds of Christians in that country. The vigil was jointly organised by Christian Solidarity Worldwide, Release Eritrea and CCFC. A group from Amnesty International were also present.
CCFC handed in a letter to the Embassy from Simon Coveney MEP, author of the European Parliament's Report on Human Rights in the World 2004. Mr. Coveney wrote, " I am concerned at reports of continued discrimination against Christian and other minority religious groups within your country."
" I should be grateful if you could outline for me the reasons why such discrimination is taking place, and what proposals your government has to release people who have been arrested on the basis of their religion."
The protestors held placards calling for freedom and justice. They spent an hour and a half praying and worshipping together in a demonstration of the very acts that are banned in Eritrea. Rev. Stuart Windsor (CSW) encouraged participants to raise their hands in the direction of the Embassy and pray aloud the words, "Righteousness … Justice … Freedom".
Pastors and religious leaders from Eritrea, England, Ireland, Wales and Korea offered words of prayer and messages of solidarity and comfort to the persecuted church of Eritrea. The vigil was also supported by a cross section of the Eritrean community including members of Eritrean civic and human rights organisations.
Dr Berhane Asmelash РDirector of Release-Eritrea said; 'Today the voiceless persecuted Eritrean Christians found a voice of many tongues for that I thank God"
David Turner spoke on behalf of the Irish group present Р"It is a privilege for us to join you today in support of our brothers and sisters in Eritrea. Irish Christians have been shocked and appalled at the suffering of our fellow-Christians. Our banner has an image of those metal containers in which many Christians are being held."
At the close of the vigil, CCFC distributed over 300 postcards bearing the image of the metal containers. These postcards (addressed to President Afewerki and Ambassador Ghebrezghi) will be used to continue to appeal for the release of innocent Christians in Eritrea.
Share this