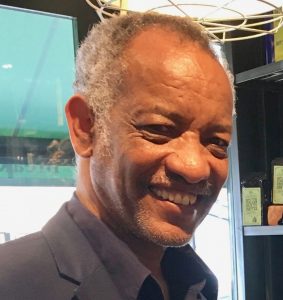 Over a year after the reforming new Ethiopian Prime Minister Abiy Ahmed (an evangelical Christian) travelled to Eritrea to sign a peace declaration with Eritrean President Isaias Afewerki, hopes of change coming to Eritrea have been dashed.
The lack of change in Eritrea has been recognised internationally – highlighted by the announcement in October 2019 of Ethiopian Prime Minister Abiy as the winner of the Nobel Peace Prize. Significantly, the prize was not jointly awarded to President Afewerki, his partner in the talks.
David Turner (Director of Church in Chains) recently interviewed Dr Berhane Asmelash (Director of Release Eritrea) about the current situation in Eritrea.
Are things getting better or worse in Eritrea?
It's both – it's getting better and worse. The thing that is getting better is, people are becoming more openly critical of the government, even inside Eritrea. People are not scared, because they have nothing to lose now – even if they are quiet, still they get persecuted. People are becoming bolder. Another positive is at least there is no border conflict with Ethiopia at the moment. Still the border is tense, but I think it is better than two years ago.
The worst part is people are suffering economically inside Eritrea because the government shut all the borders between Eritrea and Sudan and also between Eritrea and Ethiopia [the border was reopened for a period in 2018 after the peace talks]. I think the government is scared of uprising, like in Ethiopia and Sudan. President Afewerki wants to isolate Eritrea from all those influences. Every day up to 400 people are leaving Eritrea. Some villages are empty now in Eritrea.
Christians continue to be arrested. There was a brief respite last year, but since January hundreds of people have been arrested. Some of them have been released, about half of them; half of them are still in prison. Some of those released after a couple of weeks were pregnant women or women with children. Usually the main organisers [of a meeting] and preachers are not released.
Often the security officials ask those arrested to sign a document [to cease their Christian activities] as a condition of release. So now a lot of people just sign. They don't take it seriously and they continue with their Christian activities.
How many Christians are in prison now?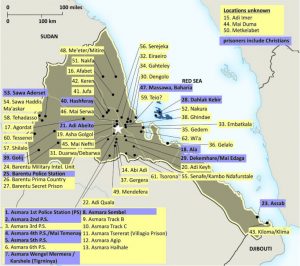 We estimate that there at least 600 Christians currently in prison. The reason that this is an estimate is because I'm 100% sure there are hundreds whom we don't know of.
We have about 360 prisons in Eritrea. They are spread all over Eritrea, in the desert, in the remote areas and it is difficult to find out about Christian prisoners in these prisons unless their families tell us.
For example, we recently heard about two Pentecostal believers who were arrested in 2002 in the town of Assab. I remember hearing about those prisoners a long time ago. They were among a large group of about a hundred prisoners and I had understood that all of them had been released. But these two people are still in prison after 17 years.
Although Eritrea is small, can you imagine to have 360 prisons? We don't have 360 secondary schools or 360 hospitals, but we have 360 prisons.
Are Christians involved in the Yiakl movement or is it more of a political movement?
[Yiakl is a word in the Tigrinya language which means "enough". In 2019 it has become a one-word protest slogan widely used by Eritreans inside and outside the country and on social media.]
Christians are involved in the Yiakl movement. For example there is one group in London, in the UK. They meet once every two months. Now they are planning another event at the end of November. I have been invited to speak to them, twice. So in every Yiakl movement, there are Christians, in the US, everywhere. It's becoming universal. It's more of a civic right movement, not really a political movement, that's why it's very successful. This year was unique because people are becoming fearless. The government governs by fear, by spreading fear, but now there is no tool left.
What is Release Eritrea doing to help Eritrea's Christians?
Release Eritrea has two priorities: one is advocacy – to speak on behalf of the persecuted church in Eritrea. My colleague Selam Kidane has been involved in many  campaigns with the UK parliament, the EU, and the UN Human Rights Council. Secondly we channel humanitarian aid to families of prisoners and also Eritrean refugees in Ethiopia, Sudan, Egypt and Israel.
Since 2005 until now, we have raised hundreds of thousands of pounds and we managed to support everybody that we knew of who has been persecuted for their faith. We support the families of  some long-term prisoners including assisting them after they are released (with healthcare and sometimes food). There are some ex-prisoners in Sudan and Ethiopia who have been released after ten, eleven, twelve years. These people need some relief. They cannot just jump and work, it is very difficult. So that is what we are doing.
Does Release Eritrea make a difference?
When we first started we didn't know that we could make any difference. But especially for the lives of the prisoners and their families, we have a lot of impact. Sometimes I meet the ex-prisoners. They didn't know that the money was coming from us, because we kept it secret. But they say Christians were in a better situation inside the prison than the non-believers, because they were getting support from the churches.
Map Credit: World Watch Monitor
Share this