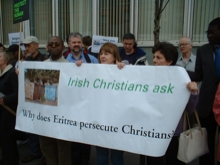 A group of Irish Christians joined a united demonstration at the Eritrean Embassy in London on Wednesday 31 May. The event, which was jointly organised by Christian Solidarity Worldwide, Release Eritrea! & Christian Concern for Freedom of Conscience, was attended by about 100 people – including a group from Amnesty International.

The demonstration marked the fourth anniversary of the decision of the Eritrean government to ban independent churches. Banners and placards at the event drew attention to the imprisonment of hundreds of innocent Christians.

The programme for the event included prayer for the Eritrean government and people as well as for the imprisoned Christians. Stuart Windsor, National Director of CSW, said: "We are delighted that so many Christians have joined our campaigns for Eritrea. The faith of those persecuted in Eritrea is an inspiration to us all. The overall human rights situation in Eritrea has deteriorated markedly and the international community must act before the situation becomes any worse."

Dr Berhane Asmelash, director of Release Eritrea, said; " I am yet again touched by the solidarity with which, our brothers and sisters across the UK have stood, with us and the persecuted church of Eritrea, this is a message of hope that our compatriots will never be forgotten, if the authorities in Eritrea were hoping that our support would diminish with time this shows that the opposition to their barbaric acts are only getting stronger".

David Turner, National Co-ordinator of CCFC, said, " It is a privilege to gather together today in solidarity with our brothers and sisters in Eritrea. We want to send a message to the Eritrean government that they have nothing to fear from the Christians they have put in prison – indeed their Christian faith makes them model citizens who have a great deal to contribute to Eritrean society".

A letter from Simon Coveney MEP (to the Eritrean Ambassador) was handed to an Embassy official. The letter asked why Christian minorities continue to be discriminated against in Eritrea and questioned what proposals the Eritrean government has to release those Christians who are in prison.
Share this