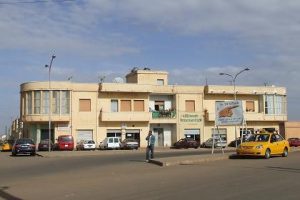 On Friday 10 May, 141 Christians were arrested while meeting together in a private courtyard in the Mai Temenai district (pictured) of the capital city, Asmara.
The 104 women, 23 men and 14 children were all taken away by security agents. Officials separated the men and women before taking the men to Adi Abeito prison and the women to Police Station Number 4. No one has yet been charged, and there is particular concern about the wellbeing of the children and the elderly among those arrested.
UPDATE (24 MAY): It is understood that 50 of those arrested have since been released.
Dr Berhane Asmelash, Director of Church in Chains partner Release Eritrea, says that Christians in Eritrea have become bolder in meeting together recently as the number of police raids has diminished.
The exact number of Christian prisoners in Eritrea is not known but it is estimated that there are several hundred. Release Eritrea has the names of 245 long-term Christian prisoners – most of whom have been held without trial for at least two years; some have been in prison for over fourteen years.
The latest arrests came amid rising tensions and tight security ahead of Eritrea's Independence Day celebrations on Friday 24 May. On Wednesday 15 May, Eritreans were not able to access social media. Observers believed that this was a security measure taken by the Eritrean government to prevent the organisation of protests.
(Release Eritrea/Africa Report)
On Thursday 23 May, Church in Chains will join Christian Solidarity Worldwide, Human Rights Concern Eritrea, Medhane Alem Eritrean Orthodox Church and Release Eritrea at a protest vigil at the Eritrean Embassy in London to mark the 17th anniversary of the Eritrean government's decision to close down all churches in the country apart from Orthodox, Lutheran and Roman Catholic churches (which operate under strict government control).
Share this