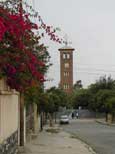 On Saturday 19 February, police interrupted Christian instruction classes at the Medhane Alem Orthodox Church (pictured right) in Asmara, the capital of Eritrea. They rounded up 131 children and teachers and took them to a nearby police station where they took down details of the children's names and addresses.
After the children were put in a hall at the police station, they started to sing in a loud voice: "I am not afraid of persecution, hardships and even death. Nobody can separate me from the Love of Jesus Christ. He died on the cross and he gave me new life."
The policemen ordered the children to stop singing, saying: "You must shut-up, this is a police station", but the children continued to sing despite their threats. The children were kept at the police station from 10am to 1.30pm. At this point, the children aged two to 14 were released while the remaining group of 30 children were transferred to Police Stations Number 7 and Number 4.
A Sunday School ministry within the Eritrean Orthodox church, the Medhane Alem group has normally been exempted from the Eritrean government's harsh crackdown against evangelical Protestant churches during the past three years. However, in early February, the entire Medhane Alem ministry was ordered closed down by government officials. No explanation has been given for outlawing the movement.
Over 200 Eritrean Christians have been arrested since the beginning of 2005; bringing the total of known Christian prisoners in Eritrea to over 600. (CSW/Compass)
Share this