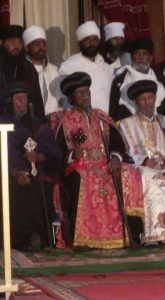 Patriarch Antonios, the 90-year-old legitimate patriarch of the Eritrean Orthodox Church, participated in a service at St Mary's Cathedral in Asmara on Sunday 16 July. The service was attended by hundreds of worshippers and was the patriarch's first public appearance in over a decade – since he was deposed by the Eritrean government and placed under incommunicado house arrest.
Many in the congregation reported that plain-clothes security officers warned people against taking videos or photos of the greatly-loved and respected patriarch. Patriarch Antonios was forced out of office in 2006 after resisting the government's increasing encroachment in church affairs. The government-approved replacement patriarch was never fully accepted by Orthodox Church members, though he was supported by senior Orthodox bishops. Since the replacement patriarch died in 2015, Orthodox Church leaders sought to end division in the church by engaging in what it termed a "reconciliation process" with Patriarch Antonios.
During the service, a deacon read out an announcement stating that the purpose of the event was to celebrate the reconciliation within the church. The deacon said that Patriarch Antonios, though present, was unable to address the congregation because he was unwell. The announcement also stated the reason for the patriarch's incarceration as being his association with heretical teaching and overstepping his authority as patriarch.
However, Patriarch Antonios has consistently denied all such accusations. In August 2016, the official Eritrean Orthodox Church website stated he had apologised for "each and every mistake which he committed ten years ago when he was Patriarch, which were the reasons for his dethronement". However, observers were sceptical of this claim due to lack of independent verification.
Reaction
Sources close to Release Eritrea have disclosed that they are very sceptical about the events leading up to the public appearance of Patriarch Antonios. Observers noted that, following Sunday's appearance, the elderly patriarch was returned to the same house in which he had been incarcerated for over ten years and under the same conditions.
Over the last couple of months his health has been failing and hence his movements and activities are said to be more restricted. However, he is alert and continues to pray for the nation and the few people with whom he is in contact.
In a statement, Dr Berhane Asmelash, director of Release Eritrea, called for ongoing prayers and advocacy for Patriarch Antonios, and for his release and reinstatement as the head of the Eritrean Orthodox church "that has suffered as a result of unwarranted interference from the government that is renowned for a totally appalling record on freedom of religious worship".
Sources close to Christian Solidarity Worldwide (CSW) have described the patriarch's public re-appearance as "a profound answer to many prayers and much pressure".
CSW's Chief Executive Mervyn Thomas said, "It is encouraging to hear that Patriarch Antonios was able to participate in a Mass after a decade of incommunicado incarceration. We await clarification regarding the terms of his release, and our profound hope is that the patriarch is finally free and will be reinstated unconditionally. We also remember the tens of thousands of prisoners of conscience of all faiths and none still languishing in indefinite detention in Eritrea… and reiterate our call for their immediate and unconditional release."
(Asmarino/Christian Solidarity Worldwide/Release Eritrea)
The situation of Patriarch Antonios was highlighted at the annual protest vigil for religious freedom held at the Eritrean Embassy in London in May 2017
Background
The position of patriarch in the Orthodox Church in Eritrea is a very important one as a large majority of Eritrea's Christians belong to the Orthodox Church. Patriarch Antonios was a greatly-loved and respected patriarch. He was forced out of office in 2006 after resisting the government's demand to excommunicate over 3,000 members of the Orthodox Church's Sunday School Movement. Prior to his removal, Patriarch Antonios had asked the Eritrean President Isaias Afewerki to release some Christian prisoners.
Patriarch Antonios was replaced in 2007 by a government-approved appointee who was never recognised by the Orthodox Church outside Eritrea and who has since died. Eritrean Orthodox priests and monks seen as sympathising with Patriarch Antonios have been detained and harassed.
Read Profile of Patriarch Antonios
Share this