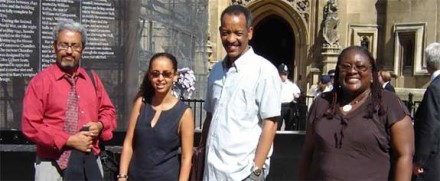 International pressure on the Eritrean government,to release innocent Christians, is growing. Earlier this month, a delegation (pictured) from Christian Solidarity Worldwide, Release Eritrea! and EHDR-UK met the Conservative Party Human Rights Commission at the Houses of Parliament in London. The delegation urged the MP's to address the gross human rights violations occurring in Eritrea with particular reference to the plight of dissidents, journalists, members of minority faiths and military conscripts, as well as the tens of thousands that have sought refuge outside Eritrea.

Meanwhile,this week, leaders of Open Doors, Christian Solidarity Worldwide and Release International presented a 100,000 signature petition to the Eritrean Ambassador in London. CSW's National Director, Stuart Windsor, said: "The number of signatories on this petition highlights the strength of feeling in the UK that these abuses of religious liberty and human rights in Eritrea must stop. We are urging the Eritrean Ambassador to take our message back to his government and put an end to the imprisonment and suffering of so many."

The CCFC postcard campaign (where individuals have signed a postcard to President Afewerki) has also been very successful – over 3,000 cards have now been distributed to churches in Ireland and Britain. To obtain a supply of the cards, email info@ccfc.ie or write to CCFC, PO Box 10447, Glenageary, Co. Dublin, Ireland.
Share this