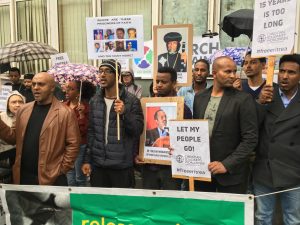 On 18 May in London, protesters from Ireland and Britain joined Eritreans in a vigil at the Eritrean Embassy calling for the release of Christian prisoners in Eritrea.
The vigil, which has become an annual event, marked the 15th anniversary of the Eritrean government's decision to close down all churches in the country apart from Orthodox, Lutheran and Roman Catholic (which operate under strict government control).
This year's event, which was held in heavy and persistent rain, was jointly organised by Christian Solidarity Worldwide, Church in Chains, Human Rights Concern Eritrea, Medhane Alem Eritrean Orthodox Church and Release Eritrea. The programme included speeches, prayers, Bible readings and praise songs.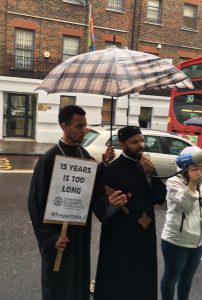 Fr Shenouda of the Eritrean Orthodox Church in London highlighted the situation facing the church in his home country, and, in particular, about those Orthodox priests who have been imprisoned without trial for over 12 years. He also expressed deep concern about Patriarch Antonios (now aged 89) who was deposed by the Eritrean government after he spoke up on behalf of Christian prisoners. Patriarch Antonios has been under house arrest since 2006 and Fr Shenouda said that recent news indicated that he may have recently suffered from food poisoning. Many of the participants at the vigil held placards bearing pictures of imprisoned Christian leaders including Dr Kiflu Gebremeskel, Kidane Weldou and Dr  Tekleab Menghisteab.
Elsa Chyrum of Human Rights Concern Eritrea outlined the desperate plight of Eritrean refugees who are leaving Eritrea at the rate of 5,000 per month. She spoke of the desperation that drives them to flee the pervasive repression in the country and also of the extreme dangers of migration: hostility in Sudan; terrorists in Libya; greed, cruelty and recklessness of people-traffickers in sending migrants in unsuitable, overcrowded boats across the Mediterranean; suspicion of EU countries about claims for asylum. She also spoke of grave concerns at moves by the European Union to develop agreements to aid  refoule asylum-seekers to Eritrea.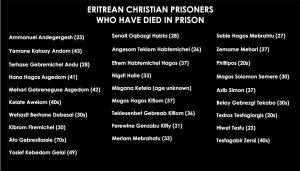 For the first time at the vigil, the names of  28 Christian prisoners known to have died in Eritrean prisons was read aloud by Dr Khataza Gondwe of Christian Solidarity Worldwide who emphasised that these names were only of those whose deaths had been verified and that it was likely that many more had died in Eritrea's prisons.
Dr Berhane Asmelash of Release Eritrea spoke about the Eritrean government and of the total concentration of power in the hands of President Isaias Afewerki, leader of Eritrea since independence. Eritrea has never held elections and while the country ratified a laudable constitution in 1997 (guaranteeing human rights), it has never been implemented. In 2014, President Afewerki stated that a new constitution would be drawn up. He has shown ruthlessness in imprisoning political opponents, closing independent newspapers and media and expelling foreign journalists and foreign aid workers. Selam Kidane (Release Eritrea) then prayed an impassioned prayer for the government of Eritrea and particularly prayed for change to come and a just society to be built in the country.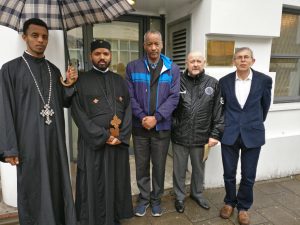 The vigil culminated in the delivery of a letter from the sponsoring organisations to the Embassy by Dr Berhane Asmelash (Release Eritrea), Fr Shenouda (Eritrean Orthodox Church), Mervyn Thomas (Christian Solidarity Worldwide) and David Turner (Church in Chains). Though embassy staff were visible from the street, they refused to answer the intercom or open the door to receive the letter. Consequently, it was posted through the letterbox.
The letter, addressed to Ambassador Estifanos Habtemariam Ghebreyesus expressed deep concern about Christians imprisoned in Eritrea and urged the Ambassador to: "convey to your government our appeal for swift and positive action to ensure the release of all prisoners of conscience, regardless of their creed, to restore the rule of law, particularly with regard to arbitrary arrest and detention, and to facilitate every right outlined in regional and international statutes to which the nation is a party for all of Eritrea's citizens, including the right to freedom of religion or belief".
Share this