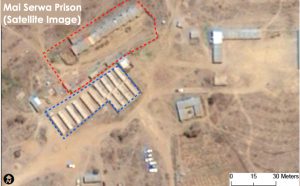 News has emerged of the release of ten Christian prisoners from Mai Serwa prison near Asmara, the capital. They were released during the second week of January and while their names have not been made public, it is known that some were "long-term" prisoners, having been held for over five years.
The latest releases follow two earlier batches of releases in autumn 2020 when a total of 69 Christian prisoners were freed on bail secured by property deeds submitted by family and friends. It is not known if those who have just been released are subject to similar conditions.
All three rounds of releases have been from Mai Serwa prison and there have been no reports of Christian prisoners being released from other prisons in Eritrea.
Church in Chains partner Dr Berhane Asmelash (Director of Release Eritrea) welcomed the news of the releases and noted that there have been no reports of any Christians being arrested for several months.
The number of Christians in prison in Eritrea is now estimated to be just under 300. Prisoners are held indefinitely, without charge and without being brought to trial. Release Eritrea estimates that more than one hundred Christians have been locked up for over eight years, about forty of them for at least 14 years.
Dr Berhane said that Eritrea continues to be under a severe lockdown initially imposed in April 2020 as a response to the spread of Covid-19 and that Christians in Eritrea are reporting that people are "dying of hunger". Strictly-enforced regulations state that all citizens must stay at home and are only allowed to leave their homes to buy essential food items during the day and for emergency medical treatment. People are not allowed to drive private cars while public transport has been halted.
(Release Eritrea)
Share this