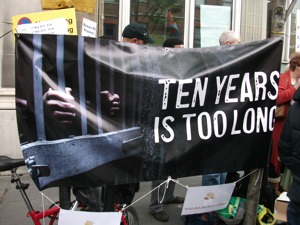 About 100 people, including a group from Church in Chains, gathered at the Eritrean Embassy in London last Thursday (17 May) under the banner "Ten Years is Too Long" – drawing attention to the outlawing of independent churches in Eritrea since 2002. Following the decree that rendered many churches illegal, the government arrested their leaders and thousands of Christians.
Click here to view a video of the vigil
However over the years that followed, even the official churches fell victim to similar persecution and interference by the government. The Orthodox patriarch, Abune Antonios, was illegally deposed in 2006, for resisting government interference in church affairs. He has been held under house arrest ever since.
The protest vigil was a show of unity of nationalities, churches and organisations. Members of the Eritrean Diaspora joined British and Irish Christians to stand in solidarity with their fellow-Christians in Eritrea who are suffering greatly because of their Christian faith.
Orthodox, Anglican, Evangelical and Pentecostal churches were among the churches represented at the vigil, which was opened in prayer by Metropolitan Seraphim (Head of the British Orthodox Church – pictured).
Speaking at the vigil, Dr Berhane Asmelash (Release Eritrea) said:
"Many journalists and human rights groups now refer to Eritrea as 'Äòa big prison'. At the moment people in Eritrea live in fear and remain vigilant of what they say or think.
"In Eritrea a prison could be anything; underground pits, metal shipping containers, military barracks, open-air prisons, police stations, and private villas. Prisoners are not allowed visitors, no legal representation, no or little medical care and little or no sanitation facilities. Most prisoners are subjected to hard labour such as digging in the quarries, working in government owned farms and loading and unloading military supplies on and off the trucks.
"Torture is frequent – we have reliable reports that many prisoners have been handicapped or even lost their lives while being tortured by prison guards. Prisoners are subjected to starvation and poor hygiene; as a consequence several prisoners have lost their lives.
"The exact number of prisoners in Eritrea is not known; since there is a constant wave of arrests and releases of prisoners it is not easy to follow the actual number of prisoners but it is believed to be over 2000."

Other speeches and prayers focused on topics including the church in Eritrea, the Eritrean government and the plight of Eritrean refugees in various places including the Sinai. On two occasions, the protesters joined in a chant: "Ten Years is Too Long – Free Eritrea".
At the end of the vigil a letter, signed on behalf of the whole group by Metropolitan Seraphim and Bishop Christopher Chessun, the Anglican bishop of Southwark, was delivered to the embassy. The letter called on the Eritrean government to grant religious freedom to Eritrea's citizens and release all prisoners of conscience.
The vigil was coordinated by: Christian Solidarity Worldwide, Release Eritrea, Human Rights Concern Eritrea, the British Orthodox Church, Release International and Church in Chains.
Share this