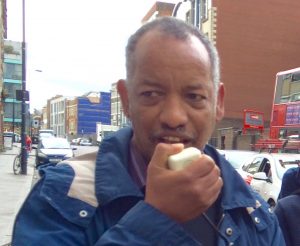 Dr Berhane Asmelash (Director of Release Eritrea) has spoken about his recent visit to Ethiopia to meet Eritrean Christian refugees living in refugee camps there. He told David Turner (Director of Church in Chains) what he found.
"There are an average of one hundred new refugees every day. In the camp that I visited there were about 3,000 new arrivals, so the flow is still continuing. Most of the newly arrived are very young – most of them maybe 16,17 or 18 years old.
"Most of them say there is no future in Eritrea, so that's why they are leaving, so that's what I heard from most of them. They cannot work, they cannot have family, they have to serve in the army for an indefinite period.
"In the past, the main reason for Christians leaving Eritrea was religious persecution, but now it's because of the general repression in the country. Although Christians are targeted more frequently than non-believers, the imprisonment, the oppression, is the same for all Eritreans."
Have you heard any reports of recent arrests of Christians in Eritrea?
"Yes, I think the last report of arrests was in January when about twenty people were arrested. Most of them were arrested by police in their houses in various areas of Asmara, the capital. Previously, they used to arrest Christians if they were found meeting together in a particular location but this group of arrests occurred in several different places. It is likely that those who were arrested had been followed by the security forces – most of them were very active in Christian ministry. They were sent to different prison centres. As far as I know, they are all still in prison."
Do you have any idea as to how many Christians are currently in prison in Eritrea?
"I would say roughly about 200, because there are about 170 long-term prisoners and, in addition, we always have these newly arrested. It is difficult to know precise figures because when they started arresting Christians [in 2003/2004], it was always reported because it was new, but since then it has become a regular part of life for Christians in Eritrea. For example, there were about 30 Christians arrested in May 2016 and some of them have been released since, but half of them are still in prison. The arrest and detention of Christians is not as frequent nor as widely reported as it used to be, but still the persecution is going on."
Do you have any news of the long-term Christian prisoners who've been imprisoned since 2004?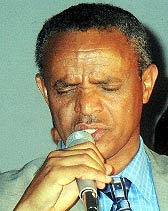 "It is very difficult to hear the news, especially from the senior pastors, but we hear some news from different people, yes. Sometimes we hear about their health, they are not in good health, we heard that Pastor Kidane Weldou (pictured) was not well. Otherwise, we hear from people who heard about some of them, they see them visiting a doctor or something like that. They are not able to talk to the prisoner or to any members of their family. People can see them coming in and going out of a hospital, but nobody's allowed to talk to them so sometimes it's hard to know how they are doing. Most of the senior pastors are held in the same prison but we don't receive any information about them."
What sort of people and situations has Release Eritrea been helping recently?
"We've been helping families, refugees, anyone who is suffering, not necessarily families of prisoners, but everybody's suffering so whenever we hear any news about needy families, needy people, we try to support them.
"We always send to the people who we asked it for, we don't use it for our administration fee, nothing is spent in the UK [where Release Eritrea operates from] so everything goes to Eritrea. And our main focus is on those who have been persecuted for their faith. But, as I say, other people are also suffering so sometimes we also support, you know, Christian families who are in need."
What have you heard about the existence of famine in Eritrea?
"In Eritrea the main problem is the government initiated this famine because people are not allowed to do business, they don't get paid, and all them live on revenue (you know, Eritreans in the diaspora send money to family members) so sometimes the famine doesn't make any difference – whether we have it or not, we always import food from outside, so that's the main difference between Eritrea and other people in east Africa.
"The Eritrean government is trying to deny that there is a famine, but they always deny. As I said, very few people in Eritrea depend on farming because we always have this drought and shortage of grain, so the Eritrean people's problem is not crop failure primarily, it's the government."
Prayer Requests from Dr Berhane
Pray for the Eritrean government to be removed or to change its policy.
Pray for the church operating under this very strict situation.
Pray for the health of Christian prisoners and for their eventual release.
Pray for the families of Christians prisoners as they struggle to understand why their loved ones have been imprisoned for so long. Pray that they will know supernatural support from God.
Share this