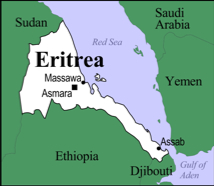 Three more Christians imprisoned for practising their faith have died in Eritrean military prison camps. The number of Eritrean Christians who have died while in prison for their belief now totals 21.
Terhase Gebremichel Andu (28) and Ferewine Genzabu Kifly (21) died as the result of starvation and untreated health problems, on 16 and 23 October respectively. They were arrested during a prayer meeting in 2009 at a private home in Tesenai, and faced two years of torture and denial of medical care in Adersete Military Camp.
Angesom Teklom Habtemichel (26), who was imprisoned at Adi Nefase Military Camp in Asab, died at the end of August. He suffered from severe malaria but was denied medical treatment because of his written refusal to recant his Christian faith.
In 2002, the Eritrean government outlawed all religious activities outside of Sunni Islam and the Eritrean Orthodox, Roman Catholic and Lutheran denominations.
Church leaders estimate that there are currently about 1,500 Christians in prison for their faith – they are arrested and released in waves. Some are held in prisons but many are held in police stations, shipping containers or in the open air in military camps. Prisoners are routinely tortured and most are held arbitrarily (without any charges being brought against them). Many come under severe pressure to sign documents renouncing their faith.
The large number of Christians doing obligatory military service must exercise their faith under severe restrictions, but many soldiers are becoming Christians. (Open Doors USA, The Christian Post)
Share this