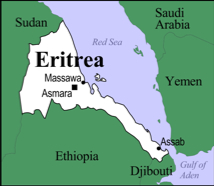 Hiwet Tesfu (23) and Zemame Mehari (27) are reported to have died in Alla military camp, where they had been imprisoned for two years and three months, and where they were buried.
Both women had been in ill health and were repeatedly tortured and denied medical treatment. Hiwet and Zemame are the 17th and 18th Christians known to have died in prison in Eritrea, and the fourth and fifth Christians known to have died in Alla Military Camp.
The women were arrested in April 2009 for attending a prayer meeting in Dekemhare, 15 km from the military camp, southeast of the capital, Asmara. At the time of their arrest, Christian meetings were being arranged by groups of young Christians in the military service.
Eritrean Christians suffer some of the most severe persecution in the world. In May 2002, the government banned all churches apart from Eritrean Orthodox, Roman Catholic and Lutheran, and all other religions except Sunni Islam. Since then, several thousand Christians have been imprisoned in appalling conditions, many in metal shipping containers and dungeons, most without being charged. Currently, there are an estimated 3,000 Christian prisoners. Some have been incarcerated since 2002 without ever being brought before a court.
The Eritrean government maintains that it has no religious prisoners in custody. Carl Moeller, Open Doors USA CEO explains: "They don't recognise these evangelical or Pentecostal sects as religious institutions or organisations; therefore, when they arrest them, it's for holding illegal activities or illegal meetings. So, when they're held, they're not holding 'Äòreligious' prisoners: they're holding 'Äòsocial' and 'Äòpolitical' prisoners."
Carl Moeller further comments, "When [Eritreans] see Christians willing to go to prison, willing to die, willing to be tortured for this religion, it creates an undeniable thirst for understanding what that faith is about… It is sometimes exactly those places where the situation is the most desperate that we see the growth of the church most dramatically."
(Mission Network News, Open Doors)
Share this