"Free Patriarch Antonios" was one of the chants made by participants opposite the Eritrean Embassy in London yesterday. Over 60 people, including a group from Church in Chains, gathered to draw attention, once again, to the outlawing of independent churches in Eritrea since May 2002.
Click here to watch a YouTube video of the vigil
Following the decree that rendered many churches illegal, the government arrested their leaders and thousands of Christians. However over the years that followed, even the official churches fell victim to similar persecution and interference by the government. The Eritrean Orthodox patriarch, Abune Antonios, was illegally deposed in 2006, for resisting government interference in church affairs. He has been held under house arrest ever since.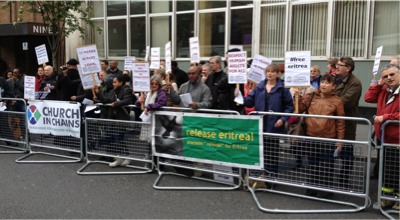 The protest vigil, now in its tenth year, was jointly organised by Christian Solidarity Worldwide, Church in Chains, Release Eritrea and Release International and featured speeches, prayers and songs of praise. Six Eritrean Orthodox clergy joined British and Irish Christians to stand in solidarity with their fellow-Christians in Eritrea who are suffering greatly because of their Christian faith.
Dr Berhane Asmelash told of how the persecution of Christians had escalated with the arrest of key leaders in 2004, most of whom remain in prison incommunicado and without any trial. Thousands of Christians have since been imprisoned for various lengths of time (it is estimated that there are 1,200 Christians currently incarcerated). Dr Berhane referred to the annual nature of the vigil saying, "We call once again for freedom of religion in Eritrea and the release of Christian prisoners. We may have to continue our call for another year or two years or three years but we will continue because justice is on our side".
David Franklin (pictured) of Church in Chains followed Dr Berhane's speech with an impassioned prayer for every Christian prisoner to be aware of God's presence in their difficult situation.
Other speeches and prayers focused on topics including the church in Eritrea, the Eritrean government and the plight of Eritrean refugees in various places including the Sinai.
At the end of the vigil a letter was delivered to the embassy. The letter called on the Eritrean government to grant religious freedom to Eritrea's citizens and release all prisoners of conscience.
Share this