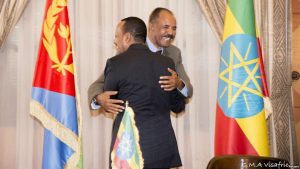 The peace agreement signed in July by Ethiopia's new Prime Minister Dr Abiy Ahmed and Eritrean President Isaias Afewerki has already had positive results, notably the reunification of families separated since the 1998-2000 border war, but it has yet to effect any change for Eritrea's persecuted Christians.
Prime Minister Abiy, the son of a Muslim father and a Christian mother, is a member of the Full Gospel Ethiopian church, a denomination that would be illegal in Eritrea, where the only permitted churches are Eritrean Orthodox, Roman Catholic and Lutheran. After he was appointed on 2 April 2018, Prime Minister Abiy released thousands of political prisoners, fired corrupt government and prison officials and promised to make peace with Eritrea.
From war to peace

On 5 June, Prime Minister Abiy announced that Ethiopia was ready to accept the Eritrea-Ethiopia Boundary Commission ruling of 2002 and withdraw from disputed territories.
On 8 July, Prime Minister Abiy visited Eritrea and was met at the airport by Eritrean President Isaias Afewerki. Many Eritreans also turned out to welcome him. It was the first time the leaders of Ethiopia and Eritrea had met in twenty years. The following day, the two leaders signed a "declaration of peace and friendship" and declared the "state of war" over.
Prime Minister Abiy said, "We have agreed to open up embassies in our respective countries, allow our people to visit each other's cities, and allow our airlines and ports to operate freely. Love is greater than modern weapons like tanks and missiles."
Telephone services between the two states were restored, and for the first time in twenty years, family members separated by the border war of 1998-2000 could talk to each other. On the eve of the war, each government had expelled thousands of the other's nationals, tearing families apart, and all transport, telecommunication and postal links were severed.
On 14 July, President Isaias Afewerki visited Ethiopia and was met at the airport by Prime Minister Abiy, and by thousands of cheering Ethiopians. Two days later, the two leaders raised the Eritrean flag at the re-opened Eritrean Embassy in Addis Ababa.
On 18 July, Ethiopian Airlines resumed flights to Eritrea and separated families were able to meet at last.
Hopes for change
While the recent political developments are very positive, little has changed yet for Eritreans and there are huge tasks to be undertaken to improve their human rights, including transition from one-party state to democracy with a free press and an independent judiciary, releasing the thousands of prisoners of conscience (including Christians, politicians and journalists), convincing the Ethiopian military to withdraw from Eritrea (where it remained because the border war was never peacefully resolved) and ending indefinite military service.
Military service in Eritrea was already compulsory before the border war, but in 2002 the government made it indefinite, citing the threat from Ethiopia. Conscripts often serve for many years with little or no pay, under conditions of restricted movement and with no chance of establishing a career or normal family life, and female recruits report frequent sexual abuse by military commanders. Many conscripts flee, risking their lives to escape Eritrea. It remains to be seen how the Eritrean government will respond when the Ethiopian military is withdrawn.
Now that the border is open, it has been reported that many Ethiopian Christians are planning to go to Eritrea, and this will be a challenge for the Eritrean government, which controls religious practice so tightly and ruthlessly. A well-known Ethiopian pastor travelled on the first flight into Eritrea, where hundreds of Eritrean Christians welcomed him at the airport with dancing and singing. Some Christians have expressed concern that underground Christians who were present might have been identified by the authorities and face repressive action.
Recent releases of Christians
In July, 35 Christian prisoners were released on bail from Mai-Sirwa prison, just outside the capital, Asmara. Five were released on 17 July and thirty on 18 July, but there is nothing to suggest that these releases are linked to recent political developments, and there has been so sign of release for any long-term prisoners. Most members of the released group are young and not in positions of leadership. Christian leaders are held in other, high security prisons, including the notorious Karsheli prison in Asmara.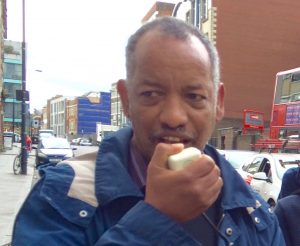 The 24 men and eleven women had been imprisoned for belonging to unregistered denominations. Most were arrested four and a half years ago and imprisoned in Me'etr (they were moved to Mai-Sirwa a year ago), where they signed forms promising not to attend underground church meetings. This would normally secure release, but it did not happen for these Christians, and there was friction between those who signed and others who refused to sign, all of whom had to live together in a small courtyard for several years.
Dr Berhane Asmelash, Director of Release Eritrea (pictured), said in a statement: "Inevitably we thank God for those released, but we are concerned about those that remain in prison and in particular the elderly Patriarch of the Orthodox church and the priests and pastors who have been in prison since 2004, they too are getting on in age and have increasingly failing health. There are hundreds of prisoners in at least ten prisons around the country imprisoned for periods ranging from a few months to close to twenty years. We call for them all to be released."
(Asmarino/Release Eritrea/Release International/Religious Liberty Monitoring/World Watch Monitor)
Share this