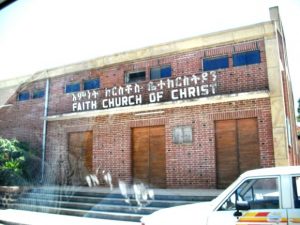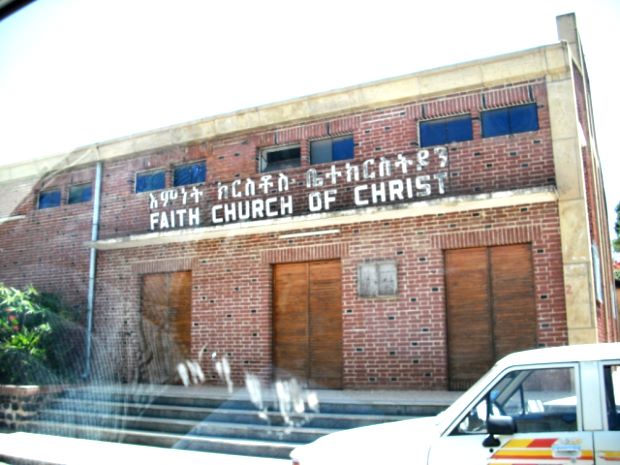 The crackdown on Christians has continued in June 2019 with another church raid, more arrests of Christians, including five Orthodox priests, and the closure of health centres run by the Catholic Church.
On 23 June, a gathering of members of the Faith Missions Church in Eritrea's second-largest city, Keren, was raided by security officers. A number of people were arrested, including pregnant women, mothers, children and at least one entire family and property at the venue was confiscated. Faith Missions Church used to run orphanages and schools across Eritrea, operating in the country since the early 1950s. Despite having submitted the necessary documentation in 2002, the church is still awaiting registration, which can only be granted by President Isaias Afwerki. The photo shows the closed Faith Missions church building in the capital Asmara.
Earlier in the month (3 June), thirty Pentecostal Christians were arrested while praying at three churches in the capital, Asmara. Just over three weeks previously, 141 Christians were arrested when they were meeting in a private courtyard also in Asmara. Fifty of those arrested in May have since been released.
Orthodox priests arrested
On 13 June, five Orthodox priests from the Debre-Bizen Monastery in the country's Northern Red Sea Region were arrested. Fathers Kebreab Tekie, Markos Ghebrekidan, Ghebretensae Teweldemedhin, Kidanemaryam Tekeste and Ghebretensai Zemichael were detained, reportedly for supporting Orthodox Patriarch Abune Antonios and protesting government interference in church affairs.
Catholic health facilities closed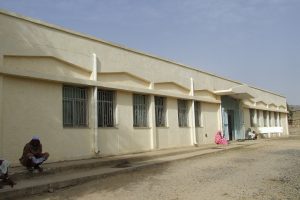 On 12 June, 21 health facilities owned and run by the Catholic Church were seized and closed by the authorities. According to reports, soldiers were posted outside some health facilities, while patients receiving medical treatment were ordered to go home, and staff were threatened. The Catholic Church has been providing medical services in Eritrea, mostly free, since the 1990s. The closure of the church-run health centres is likely to leave thousands of people, mostly mothers and their children in rural areas, without healthcare. Many analysts believe that the government closed the health centres in retaliation for the recent call by the Catholic Church for genuine dialogue on peace and reconciliation in Eritrea.
In response to the closure decision, Catholic Archbishop Abune Menghesteab Tesfamariam, of Asmara, called for seventeen days of prayer and fasting for the nation – running from 25 June to 12 July.
UN Rapporteur expresses concern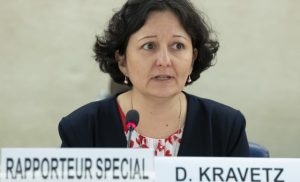 Daniela Kravetz, UN Special Rapporteur on the situation of human rights in Eritrea, is seriously concerned over these recent events. She called on the Eritrean government to respect citizens' freedom of religion and to "release those who have been imprisoned for their religious beliefs". Ms Kravetz also pointed out: "These actions show that, despite the improved regional climate for peace and security, the human rights situation in Eritrea remains unchanged." She will share her findings during an interactive dialogue scheduled for 2 July at the Human Rights Council in Geneva.
Since 2002 the Eritrean government has banned all religious groups except the Eritrean Orthodox, Roman Catholic and Lutheran churches and Sunni Islam. The exact number of Christian prisoners in Eritrea is not known but it is estimated that there are several hundred. Church in Chains partner Release Eritrea has the names of 245 long-term Christian prisoners – most of whom have been held without trial for at least two years; some have been in prison for over fourteen years.
(BBC News/Christian Solidarity Worldwide/International Christian Concern/ Religious Liberty Prayer Bulletin/UN News)
Share this