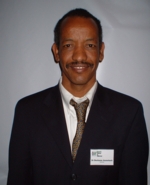 Dr. Berhane Asmelash (a respected church leader from Eritrea in the Horn of Africa) will be visiting Ireland later this month. He will be speaking at meetings in Dublin and Westport about the persecution of Christians in Eritrea – where over 400 Christians are currently imprisoned in dreadful conditions.
Dr. Asmelash's visit to Ireland is being sponsored by CHRISTIAN CONCERN FOR FREEDOM OF CONSCIENCE (CCFC). CCFC has been involved in an international campaign protesting about the arbitary arrest, imprisonment and torture of Christians in Eritrea.
In June 2005, CCFC joined a vigil at the Eritrean Embassy in London where they presented a letter from Simon Coveney MEP.
If you live within travelling distance of Dublin or Westport, we invite to come and hear Dr. Berhane (details below).
DUBLIN РTHURSDAY 29 SEPTEMBER at 8pm South Hill Evangelical Church, off Booterstown Avenue, Mount Merrion Dr. Berhane will speak at an evening titled "Christians in Containers" about the current situation in Eritrea. There will also an opportunity to ask questions and the evening will conclude with a time of prayer for Eritrea.
WESTPORT РSATURDAY 1 OCTOBER 11am Р4pm Wyatt Hotel, The Octagon Dr. Berhane will be the guest speaker at the annual Westport CCFC Conference, titled "The Nameless Ones". The conference will also feature video reports from China and Egypt and include time for discussion, prayer and action.
Share this