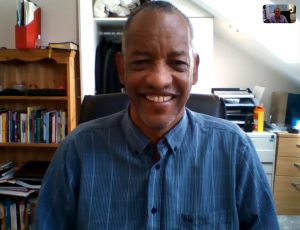 May in Eritrea sees large parades celebrating Eritrea's independence, but for Eritrea's Christians, May is also remembered as the anniversary of the closure of independent churches in 2002 – all churches apart from Eritrean Orthodox, Roman Catholic and Lutheran.
David Turner (Director of Church in Chains) recently spoke to Dr Berhane Asmelash (Director of Release Eritrea) about the current situation in Eritrea.
How has Covid-19 affected Eritrea?
In terms of the spread of the virus, it's been very limited. The government claims that there were 39 cases and all of them have recovered and are free of Covid-19.
It could be true, because they suspended all the flights into Eritrea and for obvious reasons the border is closed with Ethiopia and Sudan. But the country is also in total lockdown. Travel by car or bus or taxi is suspended. So all the people are locked in their own houses even though the government claims to have zero cases. People are only able to go to local shops or markets. The country was already locked down [before Covid-19], so now they added even more.
Most of the people are very poor. They haven't got enough money to buy food. So a lot of people were suffering; for that we sent some money to support some families in need. Eritrean TV has been showing officials collecting money, grains and some supplies from the rich and serving it to the poor. This has never been done. The Eritrean government would never give any supplies to the poor. This is not from the government, but from the people to the people.
Another hardship was that there was no water. One doctor was advising people to wash their hands and people are asking him on the phone: "We have no water, how do you expect us to wash our hands?" One lady was saying: "We had no water for the past three months. Even when we start to get drinking water, how are we going to wash our hands?" They didn't solve that problem, but luckily last week it started to rain. So whenever it rains, people collect water in barrels and containers. They can use it for drinking and washing.
As well as the Coronavirus there have been problems with locusts in the Horn of Africa. Is that affecting Eritrea?
Yes, it is affecting Eritrea. Now it is the dry season in most parts of Eritrea, but the rainy season starts in June. This rain is just a sign of the start of the rainy season. It starts at the end of June and it rains in July and August. September is like spring for us. So if the locusts carry on when they start to farm, it is really a big challenge. But there are locusts in all parts of the Horn of Africa including Eritrea and Ethiopia.
How are Christians are getting on in Eritrea?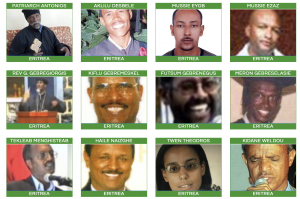 We have good news and bad news. The good news is that we haven't heard of any new arrests since August 2019. But the bad news is that we also don't see anyone being released. The problem in Eritrea is greater than we ever mentioned in the past as we continue to find out about more long-term prisoners than weren't previously known about.
For example, one prisoner was released and said: "There are over 200 prisoners in that prison, who have been in prison for 29 years". When they were imprisoned, they were in their 30s and 40s, now they are in their 70s. Most of them would be political prisoners – from rival liberation groups or political opponents. Some of them, they don't know why they are in prison.
There are some Christians in that prison and we are trying to find out their names. There are also some Christians in a place in Eiraeiro which is one of the worst prisons in Eritrea. It is on the Red Sea coast where most former Eritrean government ministers and officers have been incarcerated for the past 18/19 years.
We always hear about Christian prisoners who are arrested in Asmara or who belong to churches that we have contact with. However, we don't hear about Christians who are arrested while serving in the army. Often people suspect that they got killed in the war [with Ethiopia] but then find out much later that they are actually in that prison.
I heard recently of one Christian prisoner who had been in prison for 18 years and I had never heard about him before. He has just been released but we don't want to mention his name because he is still in Eritrea. He was arrested in early 2002 before the churches were closed. Most of the time he was in solitary confinement but we cannot talk much about him while he remains in the country.
A while ago, I was sent a picture of somebody who was in prison for 14 years. He was released last year and his plan was to stay in Eritrea, get married and start a family. He was in his late 20's when he was arrested, now he is in his mid 40's. The government tried to arrest him again, so he escaped and managed to cross to Ethiopia a month ago. So we hear all these bad things. These horror stories are never ending. Sometimes the government accuses us of exaggerating, but actually if we tell all the truth, it would be too much for those who listen. It's one of the worst or cruellest regimes in the world.
Are people still leaving Eritrea across the borders to Ethiopia and Sudan in the same numbers as before?
They were still leaving in the same numbers until the Coronavirus. Over 300 people a day used to cross every day until January. Now it has been difficult to move around. Still they are leaving and crossing to Ethiopia. More than 1,000 Eritreans have been kept in quarantine centres for two weeks. If they are Covid-free after two weeks, they let them go and they settle in refugee camps.
Are there any further restrictions on Christians meeting together inside Eritrea, as a result of Covid-19?
All religious gatherings were suspended including the Orthodox Church and Muslim gatherings during Ramadan – everything is suspended.
Christians from the banned churches typically  meet in small groups of four or five people. So they can probably still do that. People can walk in their neighbourhoods, so I think that would be possible and they are doing it.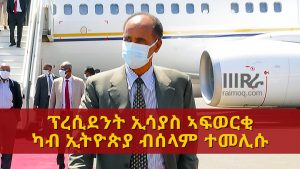 What can you say about the rumours about President Isaias when he wasn't seen for a while?
BA: He does it from time to time. Nobody knows whether he did it deliberately or for health issues. So when the Coronavirus pandemic started, he disappeared and all his ministers disappeared. On the TV you only see doctors from the hospital giving advice to people. You don't see any politicians. So people are wondering what happened to him. One news site spread the news that President Isaias is dead; I was a bit suspicious. Because if he was dead, there would be a lot of power struggle.
Probably he was sick. He is in his mid-70s and whether it was malaria or flu, or all sorts of sickness. He drinks a lot, he has diabetes and high blood pressure. We don't know. He may be healthy or not.
Then suddenly he was seen in Ethiopia… nobody knows why he went to Ethiopia. What they said in the news is that he went to Ethiopia to talk about locusts and Coronavirus.
Have you any news of the any of the long-term prisoners for whom we have been praying and campaigning, like Dr. Kiflu Gebremeskel or Kidane Weldou?
Yes, they are still in the same prison in Wengel Mermera in Asmara. Healthwise they are doing OK from what we hear. We don't expect any change from this government. We used to hope that they would be released after 10 or maybe 15 years. Now it is 16 years and even their family members are now speaking openly. I have seen Dr Menghisteab's wife was speaking openly on television about her husband. The family members are giving up, they only trust in God, they don't trust that this government will bring any change.
We have heard recently that Twen is doing well – she is with a group of female Christian prisoners  who have been in prison for 15 years.
What are your top three prayer points for Christians in Eritrea?
My first prayer request is change of government. This government needs to be removed because we don't hope for any reform or change. We want everyone to pray for change, we need a good change.
We want you to pray for the safety of all Christian prisoners and also for their spiritual wellbeing. It is really hard to keep your faith after 17/18 years in prison. I don't know how they can manage.
Please pray for the church. It is now 18 years since the churches were closed. So far they are doing their ministry faithfully. We need to pray for safety and for courage and for them to continue to be focussed.
Share this