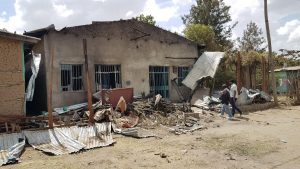 On Saturday 9 February, coordinated arson attacks by radical Muslims in the southwestern town of Halaba Kulito damaged ten church buildings and destroyed their contents.
The attacks were carried out by several angry mobs, each numbering in the hundreds, enraged by false rumours on social media that a mosque in the surrounding countryside had been fire bombed. Chanting "Allahu Akbar", local Muslims of all ages from across the town desecrated ten evangelical church buildings and some ancillary facilities over a period of five hours. They removed all the contents from the buildings, dumped them in the street and set them on fire.
Only one church building (Kale Hiwot Galeta) was totally destroyed, being more isolated than the others, which were not set on fire because of the risk to neighbouring Muslim properties.
Witness statements point to a clear instruction given that only church buildings and property be targeted and not Christians. However, two Christian leaders were seriously injured and needed hospital treatment (they have since been able to return home) and several other Christians sustained minor injuries and also needed hospital treatment.
State police arrived in the town during the early afternoon and restored order, and the local government allocated a police guard to every church in the town. Municipal police had been present during almost every attack, but stood by and took no action.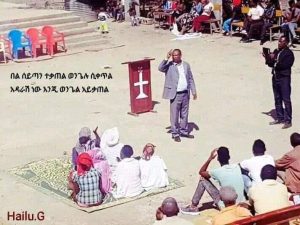 Scottish persecution relief charity Steadfast Global reported that several of the attackers have been arrested and placed in custody, and it is believed (although not confirmed) that they will face trial.
Every congregation met to worship on the Sunday following the attacks, although a significant number of Christians felt too frightened to attend. The image shows a congregation worshipping in the open air with the message: "You can burn our churches but you cannot stop the Gospel!"
Steadfast Global makes visit
After Steadfast Global and its partner organisation Voice of the Martyrs Canada were informed of the attacks on Monday 11 February, they allocated almost £3,000 (€3,480) to help meet the immediate needs of the affected congregations, and organised a visit to Halaba Kulito.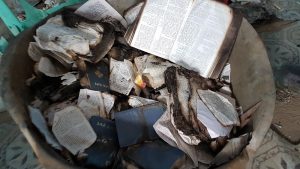 A Steadfast Global representative travelled to the town and spent the day there on Thursday 21 February to bring aid, assess the damage, meet local Christians and discuss what help they need to restore their places of worship (for example, by building worship shelters and replacing burnt Bibles, song books, instruments, benches, chairs and other equipment). While the churches will gather contributions from members, they would not be able to raise enough to replace the items without aid.
In the representative's report of the visit, he wrote:
1) We sat. We listened and we communicated the love of our supporters.
2) We assisted 17 Christians to meet their medical bills.
3) We provided financial assistance to all ten congregations to help them replace items that were lost.
4) The total amount distributed was £3,000.
5) We assessed the needs going forward and identified congregations whom, assuming we have the resources, we will help significantly to allow their churches to be rebuilt/repaired.
Steadfast Global asked supporters to pray for the Christians of Halaba Kulito, giving thanks for the small number of injuries and asking that they would remain bold and strong, and to pray with them that many among the attackers would come to know Jesus.
Reformist Prime Minister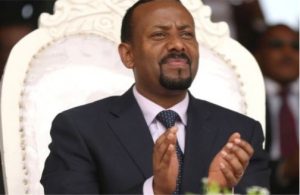 Ethiopia's Prime Minister Abiy Ahmed, elected to office in April 2018, is a Christian from a mixed Christian-Muslim family and has brought hope of reform and growth to the nation. As soon as he became leader he launched a programme of reforms including lifting a state of emergency, releasing 60,000 political prisoners (including journalists), unbanning opposition groups previously classified as terrorist and signing a peace agreement with Eritrea.
At 42 the youngest leader in Africa, Prime Minister Abiy intends to oversee the political and economic liberalisation needed to maintain rapid growth. Speaking to the Financial Times recently, he described improving his own surroundings as a metaphor for transforming the country – the Prime Minister has completely remodelled his working environment into a sleek, state-of-the-art facility of which he said, "I want to make this office futuristic. Many Ethiopians see yesterday. I see tomorrow. This place has gone from hell to paradise."
Read more about Ethiopia in the Church in Chains Country Profile.
(Steadfast Global/Financial Times)
Share this