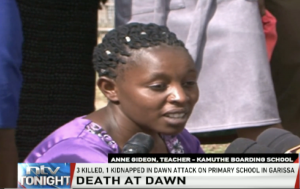 Caleb Mutua (28) and his 30-year-old brother Samuel along with Titus Mushindi (29) were killed by Al-Shabaab terrorists in an early morning raid on Kamuthe Boarding School on 13 January. Anne Gideon, who survived the attack, told reporters that she heard the leader of the gang of twenty militants order that everyone should be killed.
Anne hid under a bed while the attack was in progress and prayed "Jesus, help us, God be with us" and told NTV Kenya "It is only God who helped us". She lamented the uncertain security in Garissa County saying, "We are killed like wild animals. It is sad that when you are enjoying God's given sleep, merciless attackers decide to take the life of innocent teachers who are serving the community's children." Another teacher, Lucy Wanjiru, and her two-month-old child also escaped harm by hiding under a bed.
View NTV Kenya's interviews with survivors
Kamuthe Primary Boarding school is located in Garissa County in northeast Kenya which borders Somalia where al-Shabaab rebels are based. A local church pastor said the victims were among four non-local teachers who attended his church after coming to the area at the start of the school year last September. "In early September 2019, four teachers attended our Sunday worship service before proceeding to their teaching station at the Kamuthe boarding primary school," said the pastor, who requested anonymity for security reasons. "I am very sure that the community has been monitoring the Christian faith of these teachers."
A male teacher who survived the attack said the terrorist raid took place as the teachers were sleeping. The terrorists ordered the teachers out of their rooms and separated out the non-local ones who had come from other parts of Kenya – assumed to be Christian as they were not ethnic Somali Muslims, who are predominant in the region near Somalia's border. "Al-Shabaab knew our residential rooms," he said. "The attack was well planned. It is a conspiracy between the al-Shabaab and the local Muslim community."
Al-Shabaab usually spares the lives of women and girls, and a female survivor of the attack said that the assailants pursued only the men. The terrorists abducted an unnamed male teacher while another, Joshua Mutua, is recovering in hospital after suffering gunshot wounds to the hip and leg.
The terrorists also attacked Kamuthe police station and tried to destroy telecommunications equipment, but were warded off by the police.
Kamuthe school has been closed and all non-local teachers working near the border are to be transferred out of the area immediately.
Recent Attacks
The attack on Kamuthe school comes against the backdrop of a series of Al-Shabaab attacks in the area since the beginning of December, in which 25 people were murdered. In one of the attacks (on 6 December), four teachers were among the 11 non-local Christian passengers killed en route to Mandera from Nairobi. The terrorists stopped the bus in which they were travelling,  separated the passengers into Muslims and non-Muslims and shot dead all those who failed to recite the Shahada (the Islamic declaration of faith).
Al-Shabaab also killed three Americans at a military base in Kenya in early January and murdered 85 people in a car bomb attack in Somalia's capital Mogadishu in late December.
Who are Al-Shabaab?
Al-Shabaab, which has links with Al-Qaeda, is the main Islamist organisation operating in Somalia. Al-Shabaab rules according to a strict interpretation of Islamic laws known as Wahhabism (the same form of Islamic rule imposed in Saudi Arabia and Afghanistan). All its laws come from Sharia law and punishments include flogging, hand amputation and execution by stoning. It has radicalised many communities and it aims to eradicate Christianity from Somalia. Since seizing control of central and southern Somalia in 2008, Al-Shabaab has murdered dozens of Christians, targeting converts from Islam.
Al-Shabaab spread to northeast Kenya in 2011, where they have carried out many kidnappings and murders. In April 2015, Al-Shabaab killed 148 people (the vast majority of them Christians) in an attack on Garissa University.
(AA News/Daily Nation/International Christian Concern/Morning Star News/NTV Kenya/ The Conversation)
Share this