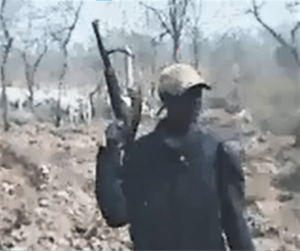 At least 33 Christians were killed in one week in July during attacks on Atyap villages in southern Kaduna's Zangon Kataf Local Government Area, and four church buildings and 215 homes were burned. The Atyap people are a predominantly-Christian ethnic group living in the region.
Local sources said Fulani herdsmen attacked the villages unimpeded from 8 July to 14 July – the photo, of an armed Fulani herdsman in north-central Nigeria, is a screenshot from a video obtained by Morning Star News.
Thursday 8 July: Kibori village
Fulani herdsmen reportedly attacked Kibori village and killed 65-year-old widow Esther Patrick and three of her family members, including her 6-year-old grandchild Yerima Godfrey.
Friday 9 July: Makarau village
Herdsmen ambushed and killed 35-year-old Christian Timothy Ayok as he returned from his farm in the afternoon.
Sunday 11 July: Warkan village
Fulani herdsmen attacked Warkan village and killed eight Christian family members, looting and burning eleven homes and stealing animals.
"My mother's village, Warkan, was attacked by Fulani herdsmen – several houses were burned, and I lost my uncle, his wife and children, eight family members in one house," Manasseh Adamu said in a text message to Morning Star News. "My heart bleeds because of the attacks on Christians here in southern Kaduna state." He described the herdsmen as jihadists who target Christian villages, adding: "Many have died and others wounded; houses burned, churches burned, goods looted."
Monday 12 July: Magamiya village
Herdsmen stormed Magamiya village at around 11 pm and started shooting, looting and setting houses ablaze, according to Luka Binniyat, spokesman of Southern Kaduna People's Union (SOKAPU), who reported that two people were killed in the attack.
"After putting in about two hours of unchallenged murder, looting and arson, the armed herdsmen burned down St Pious Catholic Church in the village," he said, going on to describe how the herdsmen attacked the family compound of Christian community leader Sir Dominic Yahaya: "Several blocks of flats and rooms that make up the family compound of five households were looted of valuables and foodstuffs which were carted into four waiting Hilux vans. The houses were then set ablaze." Help eventually came from other villages and the attackers retreated in their vans and headed elsewhere.
Tuesday 13 July: Makarau and Kachechere villages
Armed herdsmen arrived in Hilux vans to attack Makarau and Kachechere villages, killing ten Christians, burning the Evangelical Church Winning All (ECWA) and Anglican church buildings and looting and burning twelve houses.
Wednesday 14 July: Matyei and Abuyab villages
Local residents in Matyei village identified attackers who invaded the village at night as Fulani herdsmen. They killed eight Christians and burned 156 homes in a violent attack that lasted over an hour. Luka Binniyat said in a statement, "The Catholic church in Matyei village and its pastorium were burnt. The catechist, simply known as catechist Yau, and an infant, were killed in the attack.
The armed herdsmen then went 500 metres to Abuyab village and burned down the ECWA building and twelve homes, including that of retired Major General Shekari Billyok, a Christian who is a former West Africa Armed Forces field commander.
"Ongoing genocide"
In a SOKAPU statement on the violent attacks signed on 13 July, Luka Binniyat said, "SOKAPU condemns this wicked act and the complicit silence and inaction of government for failing to take steps to bring the Fulani perpetrators and their leaders to justice." He described the week of violence as part of "an ongoing genocide and land grab in which 108 Southern Kaduna communities have been displaced and taken over by them since 2019".
He said that in the past year Fulani herdsmen have killed at least one hundred Atyap natives in Zangon Kataf Local Government Area and have burned about 24 Atyap villages and grazed their cattle on hundreds of hectares of farmlands, destroying crops. He also said the authorities have failed to call a single Fulani leader in for questioning.
Concluding the statement, Mr Binniyat said: "We call on the Nigerian Human Rights Commission, Amnesty International, the United Nations and all relevant international organisations, including local NGOs and human rights groups, to bear pressure on the federal government and Kaduna state governments to stop the genocide on Christians and bring the culprits to justice," and called on the international community to come to the aid of thousands of displaced people.
Kaduna pastor receives death threat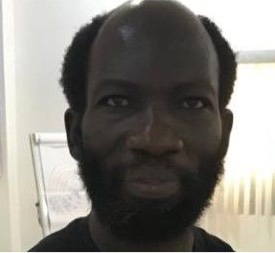 Meanwhile, on 12 July a pastor who provides aid to displaced communities in southern Kaduna received a handwritten death threat.
Pastor Gideon Agwom Mutum (pictured) is director of Nehemiah Camp in Kafanchan, Jema'a Local Government Area, which he founded in October 2016 to assist displaced villagers following a surge in armed Fulani attacks in the region. He is also a member of the Relief and Intervention Committee of SOKAPU, and a volunteer with Christian Solidarity Worldwide.
Pastor Mutum, who lives in Kafanchan with his wife and children, found the anonymous two-page letter near his car. It accuses him of having insulted the Fulani tribe in the media "for long" and threatens: "We will kill you like goats and your family. We know your house, your church and even your family."
The writer threatens to destroy a school the pastor built and also threatens the life of Steven Kefas, a journalist and activist from southern Kaduna who was arbitrarily detained for 150 days in 2019.
The letter concludes: "Your movement is known by us. Tell your people to get ready for us. Inshallah we will come except you go back to tell the world you are sorry for all you… said concerning the Fulanis. We are coming. Nigeria is our land. Southern Kaduna is our land."
(Christian Solidarity Worldwide, Morning Star News, New Nigerian)
Share this