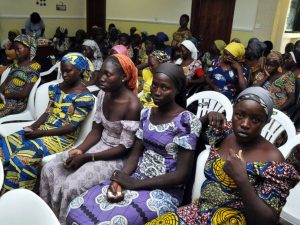 After months of negotiation, 82 of the Chibok schoolgirls were released by Boko Haram militants on Saturday 6 May.
They were part of the group of 276 girls (predominantly Christian) kidnapped from Government Girls Secondary School in Chibok, Borno state, in April 2014.
The 82 young women (now aged between 19 and 21) were handed over to the Nigerian government in the town of Banki in northeast Nigeria close to the border with Cameroon. It is understood that the young women were released in exchange for five Boko Haram militant commanders.
The deal was negotiated by Mustapha Zanna, a barrister who currently runs an orphanage in Maiduguri but who was once the lawyer of the late founder of Boko Haram, Mohammed Yusuf. It also involved the Swiss government and the Red Cross. A source said that negotiations were complicated but that "Both parties agreed to manage the release of the girls in a no winner, no vanquished manner. We don't want to jeopardise the chances of freedom for others."
Meeting with President Buhari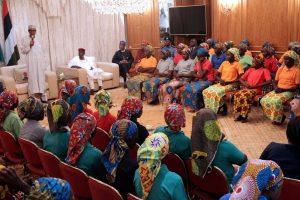 On Sunday, the young women were picked up in Red Cross vehicles and boarded military helicopters to be flown to the capital, Abuja, where they were given medical checks and later met Nigeria's president, Muhammadu Buhari. "I cannot express in a few words how happy I am to welcome our dear girls back to freedom," the president said, according to a statement released by his office. President Buhari promised to "personally supervise" the authorities charged with ensuring the girls' "health, education, security and general well-being". The 45-minute meeting was held shortly before President Buhari left for London for a medical consultation amid growing concerns over his health.
The young women appeared tired, sombre and confused but in reasonable health. Two of the group were physically injured – one with a wrist injury and the other was on crutches. One had a young child with her.
Joy in Chibok
Sources from Chibok said the entire town reacted with joy when the releases were confirmed, with churches full for Sunday services in which there were expressions of gratitude to God for "the bountiful harvest of release of our daughters from the hands of their abductors".
"Our joy is unquantifiable; we are most grateful to God most high for this day, and will continue to pray fervently for the release of the remaining 113," said Mrs Yana Galam, the leader of the mothers of the abducted girls, as she boarded a vehicle to Abuja.
The Bring Back Our Girls campaign welcomed the releases and commended the government for its action but also stated that the freed girls require rehabilitation and trauma counselling. "It's not just to bring them back home, we must ensure that they get the education they are supposed to have…it is time for them to be reunited with their families. Psychosocial therapy… there has to be rehabilitation. And at the end of the day, we want to have world leaders out of every one of them so that they can be what the terrorists did not want them to be."
It is unclear what will happen to the 82 young women. Some 21 others who were released in October 2016 are still being kept in Abuja, ostensibly for counselling and have not been allowed to go back and live with their families, who live 800 km away in Chibok. Concerns have been expressed that the government is reluctant to allow them freedom because it doesn't want details of their treatment by Boko Haram to become known.
It is thought that some of the other 113 abducted schoolgirls are dead or have been radicalised and do not want to leave their Boko Haram husbands. A Boko Haram commander previously told a Nigerian newspaper that about ninety of the students "had since become Boko Haram members, having been married off and radicalised… as soon as they were captured". The Nigerian government has pledged to work to secure the release of all the abducted girls.
Names of the released young women
1. Kwatah Simon 2. Grace Dauda 3. Junmai Paul 
4. Tabita Pogo 5. Yanke Shetima 6. Junmai Miutah 
7. Juliana Yakubu 
8. Mary Yakubu 
9. Ruth Kolo 
10. Mairawa Yahaya 
11. Rachael Nkeke 
12. Fibi Haruna 
13. Asaba Manu 
14. Esther Usman 15. Filo Dauda 
16. Awa Abga
1 17. Lydia Joshua 
18. Naomi Bitrus
 19. Martha James 20. Falmata Musa 
21. Aisha Ezekiel
 22. Awa Yerima
 23. Mwada Baba
 24. Hannatu Ishaku 
25. Mwa Daniel 
26. Rifhatu Soloman 
27. Maryanu Yakubu 
28. Rebecca Joseph 
29. Laid Audu 
30. Amina Pogu
 31. Sarah Nkeki 
32. Esther Josiiuwa
 33. Saraya Yanga 
34. Ruth Amos 
35. Hauwa Musa 
36. Hauwa Ishaya 37. Glory Aji
 38. Mary Ali 
39. Rahilla Bitrus 
40. Luggwa Mutah 
41. Lataba Maman
 42. Lydia Habila 
43. Deborah Peter
 44. Naomi Yaga
 45. Kwazigu Haman
 46. Lugguwa Samue
l 47. Maryamu Lawan 
48. Tobita Hellapa 
(Maryam Lawal)
 49. Ruth Ishaku
 50. Maryamu Musa 
51. Margret Yama
 52. Kawa Luka
 53. Solomi Titus 
54. Naomi Yahona
 55. Maimuna Usman 
56. Grace Paul
 57. Hawa Ntakai
 58. Yagana Joshua 
59. Comfort Bulus 
60. Ramatu Yaga
 61. Rhoda Peter
 62. Naomi Luka
 63. Naomi Adamu
 64. Liatu Habila 
65. Victoria William 
66. Ladi Ibrahim 
67. Christiana Ali
 68. Hanatu Stephen 
69. Patina Tabji 
70. Martha James
 71. Tabita Sila 
72. Yana Bukar 73. Abigie Bukar
 74. Hadiza Yakubu 
75. Naomi Zakariya 
76. Maryamu Wari 
77. Amina Bulama 
78. Asabe Lawan 
79. Mary Dauda 
80. Maryamu Balama
 81. Naomi Philemon 
82. Saratu Ayuba
(Al Jazeera, CNN, Daily Post, Daily Trust, Guardian)
Share this