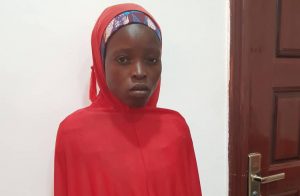 On 4 January, the Nigerian Army announced that it had rescued Salomi Pogu, one of the Chibok schoolgirls abducted by the radical Islamic group Boko Haram in 2014.
The army stated that troops engaged in "Operation Lafiya Dole" (targeting the activities of Boko Haram) had found Salomi in Pulka, in the Sambisa Forest region of the north-eastern state of Borno. According to the army, Salomi was found along with another girl, aged 14 (not part of the Chibok group), who was carrying a baby. The army did not disclose further details of the rescue other than to state that the three were in "the safe custody of troops and receiving medical attention".
The rescue was confirmed the following day by the chairman of the Chibok Parents Forum, Yakubu Nkeki, who said with a tone of excitement, "It is true! Her name is Salome Pogu, from Kuburmbula Ward, Kaumitihyahi village." He added, "Just the day before, her father, Pogu Yahi, came to visit me and asked what further steps were being taken to secure the release of the remaining girls, only for us to hear the good news of the rescue of his daughter today."
Yakubu also said that the previously released girls who had been in the custody of the Nigerian government in Abuja were brought to spend Christmas with their families in Chibok. He said, "We distributed them to their parents in the various villages. It was indeed a joyful time of reunion and celebration."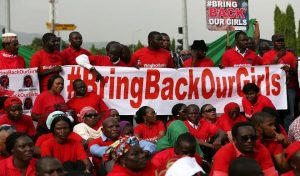 The Bring Back Our Girls movement also confirmed the news to be true and said that Salomi is Number 15 on the publicly known list of missing Chibok girls. It stated that 112 schoolgirls remain missing. The movement, which has campaigned tirelessly to ensure that the Chibok girls would not be forgotten, will hold its monthly "March to the Villa" to the official residence of the Nigerian President on Tuesday 23 January.
The Chibok girls, now aged between 19 and 21, were a group of over 200 girls (predominantly Christian) kidnapped from Government Girls Secondary School in Chibok, Borno state, by Boko Haram terrorists in April 2014. Twenty-one were released in October 2016 and 82 were freed in May 2017. The released girls spent a long time in government custody undergoing rehabilitation therapy before resuming education in September 2017.
(Bring Back Our Girls/International Christian Concern/Premium Times)
Share this