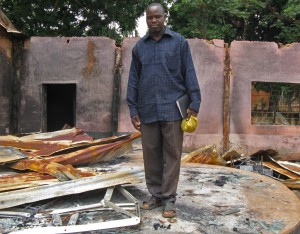 At least 80 Christians were killed and many were injured in a series of attacks on predominantly Christian villages in Plateau and Kaduna states over Easter.
The attackers – thought to be herdsmen from the Muslim Fulani ethnic group – were heavily armed, and most of their victims were children, women and elderly people. Many villagers fled to the nearby hills, and some who returned later were murdered. Christian leaders reported the destruction of 234 homes, the burning of eight church buildings and the displacement of as many as 4,500 Christians.
Pastor and his family escape
Rev John Dakwat (34), pastor of a 250-member Church of Christ in Nigeria congregation in Kirim village, Plateau state, was at work with his wife in the back of their church building when they heard gunshots. They hid behind the church building and were able to escape because, he believes, God kept the gunmen (whom he identified as Fulani) from seeing them. The church building and the pastor's house were set on fire and he lost everything he had, including all his theological books, clothing, household items and food. "I lost everything I have ever had, but thank God I and my family are all alive," he said.
On 28 March at about 8 am, Fulani Muslims suddenly appeared in the village after pouring in from the nearby rocky hills, shooting and killing anyone they found. "It was a helpless situation, as no Christians had any weapon to fight back," said Rev John. "Women, children, and the elderly who were not able to escape were shot and killed. Luckily, all my children are in school, so this made it easier for our escape from the Muslim attackers. We sneaked away in the midst of the confusion and trekked for more than 20 kilometres to find a place to stay." Four days later, Rev John returned to Kirim village, where he is pictured, above, in the ruins of his church building.
Attacks on villages in the border region between Kaduna and Plateau states went on for three days without any response by Nigerian security forces. When security agents finally intervened, gunfire was brought to a halt on Easter Sunday, 31 March.
Prior to the onslaught, villagers had heard gunshots at about 3 am in the hills on the state border. Fulani herdsmen living amongst the villagers said that the shooting was simply coming from their colleagues who had gone to the other side of the hills to take their cattle for grazing, and that they were now returning. However, Fulani assailants had killed two Christians on the Kaduna side of the border and Christian villagers pursued them to the Plateau state side, from where they invaded the Christian villages. "Apart from destroying homes, the Fulani herdsmen blocked all escape routes and were shooting and killing Christians," said Rev John.
Identity of attackers
In the past decade, the border area between Kaduna and Plateau states in central Nigeria has become a target for attacks by Muslim terrorists and armed Muslim herdsmen. Christians have been targeted extensively by extremist groups, especially the militant Islamist Boko Haram sect, which aims to destabilise the government and impose sharia law nationwide. Such groups have increasingly incited ethnic Fulani Muslims to attack Christian areas, and Christians fear that these Fulani herdsmen, with backing from Islamist extremists, want to take over the predominantly Christian areas in order to acquire land for grazing, stockpile arms and expand Islamic territory.
A Fulani leader in Kaduna state, Ibrahim Sulaiman Abdullahi, reportedly denied that Fulani herdsmen were responsible for the recent attacks, saying, "We have co-existed peacefully despite our ethno-religious differences, and we continue to wonder who is behind this mayhem in order to continue to incite us against each other."
Christian Solidarity Worldwide reports that over a month ago a local chief allowed Fulanis to settle on land near Kirim Village after they were ordered to leave another area of southern Kaduna following a Fulani attack on a village. In recent weeks local people had begun to ask questions after it became apparent that the Fulanis were storing arms in the area.
CSW's Chief Executive Mervyn Thomas said, "While attacks on remote villages by well-armed Fulanis have occurred sporadically since 2010, the recent escalation of assaults on villagers on the Plateau-Kaduna border, the consistent targeting of women and children and the mass displacement of inhabitants appear to be part of a deliberate attempt to rid these areas of their original inhabitants. It is worrying that armed groups can still move freely, attacking for lengthy periods despite a security presence in each state."
(CSW, Morning Star News)
Share this