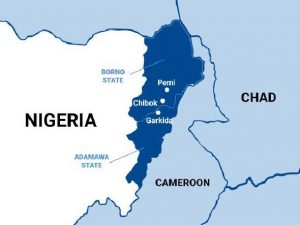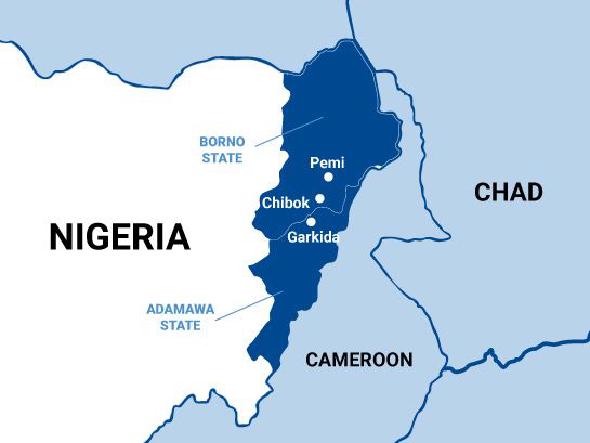 On Christmas Eve, Islamist militants attacked the villages of Pemi in Borno state and Garkida in neighbouring Adamawa state, killing at least thirteen Christians and abducting at least eighteen others, five of whom were later executed. The militants also destroyed three church buildings and torched and looted homes and other buildings.
The attackers were initially reported to be from Boko Haram, but its offshoot Islamic State West Africa Province (ISWAP) claimed responsibility for the executions in a video released by Islamic State's AMAQ news agency dated 29 December.
The attack on the predominantly Christian village of Pemi, sometimes spelled Pyemi, began when armed militants arrived on trucks and motorcycles, firing on villagers and setting fire to buildings. They killed at least seven Christians, abducted another seven and torched a local EYN church building (Ekklesiyar Yan'uwa a Nigeria, the Brethren Church in Nigeria), a dispensary and several houses.
Pastor Filibus, former Christian Association of Nigeria Chairman for the Chibok Local Council Area, reported: "They entered Pyemi and did havoc, killing some persons including the EYN Pastor. It was on Thursday evening. The Boys Brigade were holding their rehearsals when the attackers arrived. It is so sad."
Local resident Awiya Lawan told Morning Star News by text message, "Seven Christians were killed at Pemi, and the church building of EYN was completely burned by them. Houses, cars and stores were burned down. The Boko Haram gunmen carried out the attacks for three hours before soldiers arrived at the area at 9 pm."
Another local resident, Peter Solomon, said: "The Boko Haram attackers destroyed the church building of EYN and looted foods from many houses before burning about ten houses in Pemi, which is located about 20 kilometres away from Chibok town."
In Garkida, six people were killed (including a 5-year-old boy), another eleven were abducted and the Anglican and Living Faith church buildings were destroyed. Local residents said the raiders also set fire to houses and a hospital and looted shops and houses. The attack continued into the early hours of Christmas Day before Nigerian army forces drove the attackers out of Garkida.
ISWAP militants later executed five of the Christians abducted from Garkida. The 49-second video released by Islamic State shows five armed militants lined up behind five kneeling men with their hands tied behind them. Ordered in the Hausa language to state their names, each of the kneeling men says his name and adds, "I'm a Christian."
One of the militants then says in Hausa, "This is a warning to Christians in all parts of the world and those in Nigeria… Use the heads of these five of your brethren to continue with your ungodly celebrations." The five Christians are then shot dead.
Christmas attack warning
EYN General Secretary Rev Daniel Mbaya said that Boko Haram had warned of an attack at Christmas. "The attack was in the evening, about the same time they entered Pyemi, (around 3pm) they also entered Garkida (around 4pm)," he said. "We had the information three days before the attack, and security agencies were informed. They had sent word that they were coming to do 'Christmas' in town and specifically mentioned Garkida. Most people fled into the bush."
Rev Daniel also said there had been a local attack earlier in the year: "Recall that in an attack at Garkida earlier this year, three churches – the Anglican, Living Faith and EYN – were burnt down. The government had supported the rebuilding of the churches and Anglican Church and Living Faith Church had been rebuilt. EYN was still at the roofing level. This time again they burnt down the Living Faith Church and the Anglican Church."
(Barnabas Fund, International Christian Concern, Morning Star News, Open Doors, Release International)
Map credit: Barnabas Fund
Share this