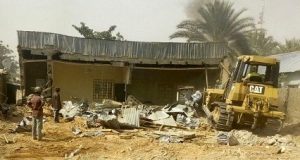 Christians living in Jigawa State in northwest Nigeria are increasingly concerned about their future following the state government's demolition of two church buildings in Dutse, the state capital, in mid-January.
On 11 January, bulldozers escorted by security forces reduced to rubble the Redeemed Christian Church of God building and the Lord Chosen Church building. They arrived at the Redeemed Church building at about 10 am, according to Rev Yakubu Musa, chairman of the Christian Association of Nigeria (CAN) for Jigawa.
The Executive Secretary of Urban Development and some key police officers were at the scene. The police blocked all the entrances to prevent church members from entering the premises. Those who tried to take pictures were chased away by police officers.
The bulldozers first removed the fence. They then demolished a small building inside the premises, before destroying the main church building. At around 12 noon, they went to the second church, which was also completely demolished.
"It was a terrible experience, with so many Christians who witnessed the demolition crying," said Rev Yakubu. "I felt so bitter because we were in a situation where you have been cheated and you cannot talk."
The authorities said they carried out the demolition because the church buildings had been built illegally. However, Rev Yakubu rejected the claims, stating that both churches had applied for official registration documents but the government had refused to grant them.
The Lord Chosen Church building had been standing for 17 years and the Redeemed Christian Church of God building for eight years. All the churches in Dutse have papers proving ownership, which directly emanate from the original indigenous owners, who were given customary rights to use their land freely.
"I was very angry because there were two mosques in that same place, but none of these mosques were demolished," said Rev Yakubu. "There is also another building belonging to a Muslim person, which was marked for demolition, but they only concentrated on the church buildings because we are not many and we don't have anyone in the government to speak for us."
Jigawa is among the twelve states which adopted Sharia law in the 2000s. This has prompted growing intolerance, which has resulted in widespread discrimination against Christians in the majority-Muslim states.
Christians living in Sharia states say they are treated as second-class citizens and denied basic rights, such as access to education or certain jobs. Access to land and building permission are very restricted or denied. Land, school or health services belonging to churches are often confiscated by state authorities without any compensation.
"We feel we are equally citizens of this country and we have the rights to be allowed to practice our religion. But this demolition was done out of injustice and discrimination," said Rev Yakubu. He said that for the last ten years the governor of Jigawa had closed his door to Christians and refused to meet with the CAN leadership, despite numerous attempts.
 "The authorities didn't give us any attention. They didn't invite us for meetings but on the other hand, the imam was always there," he said. "From all our 36 churches in Dutse, none of them has got building permission because they are not responding to our applications, though we have several copies of our applications seeking permission to build churches."
Six more churches in Dutse have been earmarked for demolition: the Deeper Life Bible Church; the Catholic Charismatic Renewal Ministry; the Methodist Church; the Presbyterian Church; the Redeem Church II; and the Baptist Church.
Churches in Jigawa have witnessed significant growth and most church buildings have reached capacity; some are overcrowded.
The two demolished churches will now hold their Sunday services and other weekly programmes in the open air.
CAN Statement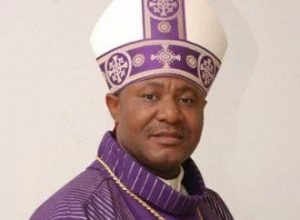 In a strong statement on 22 January, Bishop David Bakare (pictured), the zonal chairman of CAN for North West, posed several questions to the Federal Government: "Do we still have rights to exist as a church in northern Nigeria? Is religion still part of the fundamental human rights guaranteed by the United Nations and our own Nigerian constitution? Do we have any right to practice our religion where we live? We need to be told all these things for us to know what is illegal and legal.
 "The Christian Association of Nigeria, particularly in the northwest is worried because this same time last year, churches were demolished in Zamfara. Anglican churches, Catholic churches were demolished for similar excuses and nothing has happened and barely one year after, another set is being demolished in Jigawa.
 "It is time to stop this yearly ritual of demolishing churches in northwest Nigeria. We are peace loving people. We want to live in peace and we need somebody to tell us what we have done wrong. As citizens we need to know what exactly is the reason why before demolition, during demolition, after demolition, nobody is told what is happening. Up till now, the government of Jigawa State has refused to meet the Christian leaders to discuss the matter in any form."
(World Watch Monitor/Vanguard)
Share this