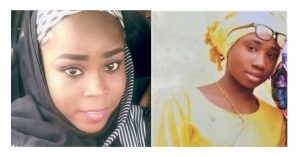 Boko Haram faction Islamic State West Africa Province (ISWAP) has killed another aid worker (pictured left) and announced that it would keep kidnapped school girl Leah Sharibu (pictured right) and a Christian nurse as "slaves for life".  On 15 October the extremists' ultimatum expired and they killed another humanitarian worker and released a video depicting the execution.
The murdered humanitarian worker was named as Hauwa Leman (24), a Muslim who worked as a midwife with the International Committee of the Red Cross (ICRC). In a statement Boko Haram said that both Hauwa Leman and Saifura Hussaini Ahmed Khorsa, the midwife killed by the group in September, were considered "murtads" (apostates) accusing them of abandoning Islam by working with the Red Cross.
Leah Sharibu and Alice Ngaddah, a Christian nurse with UNICEF and mother of two "are now our slaves", the group said according to Nigerian online newspaper The Cable. "Based on our doctrines, it is now lawful for us to do whatever we want to do with them."
On 12 October, a federal government delegation visited Leah Sharibu's family at Dapchi which was the first time any government official had visited the family since her abduction. The visit was a follow-up to a recent phone call to Leah's mother by President Muhammadu Buhari and was intended to reassure the family about the government's commitment to rescuing their daughter. However, the family was devastated after the visit as they had high hopes the delegation was bringing Leah home.
Reactions
Nigerian Minister of Information and Culture Alhaji Lai Mohammed said the killing was "dastardly, inhuman and ungodly" and said the government did all within its powers to save Hauwa Leman's life. "We are deeply pained by this killing, just like we were by the recent killing of the first aid worker. However, we will keep the negotiations open and continue to work to free the innocent women who remain in the custody of their abductors."
Mervyn Thomas, the CEO of Christian Solidarity Worldwide said: "We condemn this cowardly execution in the strongest terms. It is senseless, inhumane and cannot be justified on any grounds, let alone religious ones. It is deeply disturbing that Leah Sharibu and Alice Ngaddah remain in the hands of this profoundly nefarious sect." 
On 16 October Justin Welby, the Archbishop of Canterbury, addressed an interfaith conference in Abuja where he challenged the faith and political leaders: "Nigeria is called to be a great nation. Its problems – terrorism, religious persecution, economic hardship – can be overcome by leaders committed to the common good." Archbishop Welby had also met with President Buhari earlier this year in London and had urged him to do "everything possible" to secure the release of Leah Sharibu.
Leah is one of a group of 110 girls abducted by Boko Haram in February 2018 from their school in Dapchi, Yobe state in northeast Nigeria. Five girls died while in detention, but the other 104 girls are Muslims and were released in March. 15-year-old Leah is a Christian and the militants said they would only release her if she converted to Islam, which she refused.
112 of the Chibok girls who were abducted from their school by Boko Haram in April 2014 are also still unaccounted for. The terrorists have kidnapped thousands of Nigerians in recent years.
(Christian Solidarity Worldwide/International Christian Concern/Morning Star News/The Cable/Twitter/World Watch Monitor)
Share this