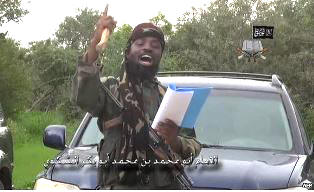 The leader of terrorist group Boko Haram has declared an "Islamic caliphate" – an Islamic state led by a supreme religious and political leader – in the towns and villages it has recently seized in Nigeria's northeastern Borno State.
Abubakar Shekau made his declaration during a 52-minute video released on Sunday 24 August, in which he stands alongside two masked rebels and reads a prepared script congratulating his fighters for seizing the town of Gwoza in Borno earlier in August. It is the biggest town under Boko Haram control. Abubakar Shekau says, "Thanks be to Allah who gave victory to our brethren in Gwoza and made it part of the Islamic caliphate… By the grace of Allah we will not leave the town. We have come to stay."
The video also shows militants using assault rifles to execute at least 20 men lying face down in a ditch. The men, dressed in civilian clothes, are thought to have come from Gwoza.
Nigeria's military spokesman Chris Olukolade responded to the declaration by saying, "The sovereignty and territorial integrity of the Nigerian state is still intact."
For weeks, Boko Haram has been attacking and occupying towns around the capital of Borno State, Maiduguri, using improvised explosive devices, anti-aircraft guns, rocket-propelled launchers and machine guns mounted on trucks. Some analysts speculate that Boko Haram intends to attack Maiduguri.
Local sources say that Madagali Government Area in Adamawa State has also been taken by Boko Haram militants and declared a part of the caliphate. Both Madagali and Gwoza were once considered predominantly Christian areas. The majority of displaced Christians are fleeing to Plateau and Benue States.
Gwoza seized
The town of Gwoza, population about 265,000, is situated near Nigeria's border with Cameroon. Gwoza Local Government Area has been under sustained attack by Boko Haram for over a year, and for the last few months most residents spent the night in the hills, descending in the morning to cook food and return with it to the hills.
In the early hours of 6 August, Boko Haram militants took Gwoza. Many fighters in military uniforms arrived on motorcycles, in trucks and in up to 50 Toyota Hilux vans and overran the town, conducting door to door searches and killing over one hundred men, women and children, many of whom have been identified as Christians. Survivors had to flee to the hills, leaving their loved ones' bodies and their ruined homes.
The militants burned and looted houses and other buildings after filling their trucks with food supplies to take to their base in the Sambisa Forest, and raised Boko Haram flags over the palace of the Emir of Gwoza, the town's traditional ruler.
They went on to attack, loot and burn the predominantly Christian town of Limankara, 23km from Gwoza. A police academy was attacked, 35 police officers went missing and an unknown number of people were killed; many insurgents were killed also. After attacking Limankara, the militants returned to Gwoza and continued to destroy the town as its residents watched from the hills.
Directives by Nigerian military leadership to retake Gwoza have been rejected by soldiers who refuse to fight Boko Haram without first receiving arms and equipment upgrades. However, Special Forces deployed to Borno State are reported to have reclaimed several villages from the insurgents.
Gwoza is not far from Chibok, where Boko Haram kidnapped more than 270 schoolgirls from the Government Girls Secondary School in April.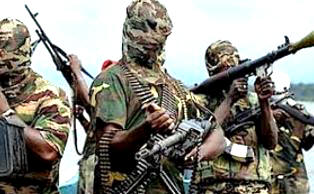 Boko Haram
Boko Haram has killed thousands of people, mostly in northeastern Nigeria, since it began its insurgency in 2009. The group has stated that the sole purpose of its campaign of violence is to establish an "Islamic state like during the time of Prophet Muhammad." In its campaign to establish a separate Islamic state under Sharia law Boko Haram targets Christians, moderate Muslims, educators and students, and military and law enforcement personnel.
Nigeria declared a state of emergency in three northeastern states in 2013, but the attacks have intensified, and have spread over the border into Cameroon. According to advocacy group Jubilee Campaign, in the first six months of 2014 some 4,099 Nigerians were killed, mainly by Boko Haram. Of these, 1,631 were Christians. While Christians are killed for their faith, Muslims are killed for reasons that include cooperating with the Nigerian military, working for the government and refusing to pay extortion taxes to Boko Haram.
Boko Haram is affiliated with al-Qaeda, al-Qaeda in the Islamic Maghreb, and al-Shabaab, and receives funds from foreign terrorist groups. While there is no evidence to link Boko Haram with the Islamic State (formerly Isis), in Abubakar Shekau's previous video in July he congratulated the Islamic State for its advances in Iraq and Syria.
(Assist News Service, Christian Solidarity Worldwide, International Christian Concern, Jubilee Campaign, Morning Star News)
Share this