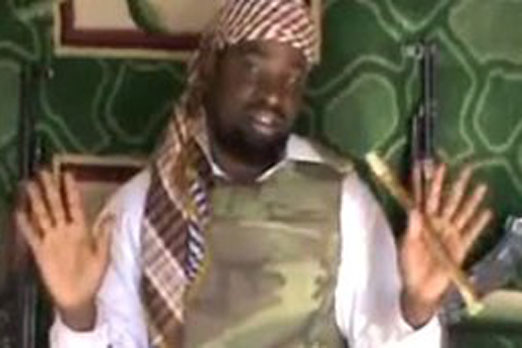 Militant Islamist group Boko Haram has rejected President Goodluck Jonathan's controversial proposal of an amnesty. The announcement was made in an audio statement believed to be from the group's leader, Abubakar Shekau, who said that his group had done no wrong and so an amnesty would not be applicable to them.
Boko Haram launched military operations in 2009 with the aim of overthrowing the Nigerian government, creating an Islamic state and imposing strict sharia law. It has been responsible for many attacks on Christians and secular institutions such as universities and the police, and its campaign of violence has led to the deaths of at least 2,000 people across northern and central Nigeria.
Some weeks ago the spiritual leader of Nigeria's Muslims, Sultan of Sokoto Abubakar Sa'ad, asked the federal government to grant members of Boko Haram a "total and unconditional amnesty" for the sake of peace, on the basis that a presidential amnesty to even one member of the sect could make others lay down their arms. At that time, President Jonathan said his administration would not grant amnesty until the group entered dialogue with the federal government.
By April, President Jonathan was said to have reached a deal with northern leaders to offer amnesty. On 3 April he met for several hours with members of the Northern Elders' Forum at the Presidential Villa to secure their support and cooperation, looking for an undertaking from them that sect leaders and their followers would lay down their arms and embrace peace, as a condition of amnesty.
On 4 April, at a National Security Council meeting, President Jonathan set up a committee to examine the feasibility of granting amnesty to Boko Haram members. The amnesty panel, which included senior military representatives, was given a two-week mandate to consider the matter.
The terms of reference of the committee were to have been:
1. To consider the feasibility of granting pardon to Boko Haram adherents.
2. To collate demands from different interest groups that want the government to administer clemency to members of Boko Haram.
3. To recommend modalities for the granting of the pardon, should such a step become the logical one to take.
Mixed reactions to amnesty proposal
Those in favour of an amnesty, whilst not sympathising with or approving of the Boko Haram cause, point out that force has not succeeded in reigning in the militants (the presence of the Joint Task Force in affected areas has not stopped the killing) and claim that an amnesty would be a bait to bring the militants in to dialogue. Northern religious and political leaders have been urging President Jonathan to grant an amnesty on this basis, saying that an amnesty is the only way out and should be tried to prevent further carnage. It has been suggested that while an amnesty might not stop the bloodshed, it would reduce it because some members of Boko Haram would prefer amnesty to confronting government forces.
On the other hand, many Nigerians have criticised the amnesty proposal because, in their view, the only response to the perpetration of violent attacks should be prosecution. They point out the insensitivity of the proposal to the thousands of victims who have died or been injured, bereaved, deprived of the family bread winner, displaced and whose church buildings have been burnt down.
One group making this criticism is the Christian Association of Nigeria (CAN), which described the Northern leaders who asked the Federal Government to offer an amnesty as selfish and insensitive to the plights of the victims. CAN's General Secretary Rev Musa Asake said, "I'm from the North. And I can tell you that the North has been shattered by the activities of Boko Haram members. So, it bothers me to hear someone calling for amnesty for these people… Right from the onset, they declared that Christians are enemies of Allah, so they are out to get rid of Christians… they have never minced words about eliminating Christians."
(BBC, Osun Defender, Vanguard)
Share this