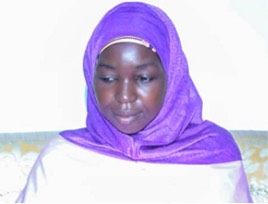 Ruth Ngladar Pagu, one of the "Chibok schoolgirls" abducted by Boko Haram in 2014, has escaped seven years after she was kidnapped.
Ruth and her two children (believed to be a boy and girl aged about 3 and 1) gained their freedom when the man she is said to have married in captivity surrendered himself to Nigerian military troops on 28 July and renounced membership of the terrorist group. Security and government officials kept the surrender secret while contacting Ruth's parents and the Chibok Parents Association in order to confirm her identity.
The surrender took place in Bama in northeast Nigeria's Borno state, around 60 km from the state capital Maiduguri, reportedly via Operation Safe Corridor, a programme set up by the Nigerian government to facilitate a voluntary exit route from Boko Haram.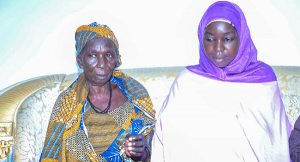 Borno Governor Babagana Umara Zulum dispatched officials to fetch Ruth's mother from Chibok and bring her to Borno State Government House, Maiduguri, where Ruth and her mother were reunited (pictured). It is believed that rather than returning to live with her parents, Ruth will remain in the care of the Borno state government for the moment.
Speaking at a brief ceremony at Government House, the Governor said the government would arrange a rehabilitation and reintegration programme for Ruth that will focus on her health, psychosocial wellbeing and her chosen path to a productive future, all of which will be determined by her.
Commenting on the purple hijab Ruth wears in the photo, Nigerian newspaper The Nation Online describes Ruth as "now a Muslim".
The "Chibok schoolgirls"
Among the thousands of Nigerian women and girls kidnapped by Boko Haram since the start of its insurgency, the most high-profile are the "Chibok schoolgirls" (now women in their twenties) abducted in April 2014 from the Government Girls' Secondary School in Chibok, Borno State. Most were from Christian families. Of the 276 girls kidnapped, many have escaped or have been released, but about 111 are still missing.
Militants surrender
Since the recent takeover of Boko Haram by Islamic State West Africa Province (ISWAP), some Boko Haram fighters have surrendered to the military and laid down their arms, not wishing to become part of ISWAP. These militants bring with them their "wives" (often victims of abduction and forced marriage) and their children.
Other reasons have also been suggested for the surrender of individual terrorists. A source told PRNigeria, "The terrorists' resolve to surrender may not be unconnected with the destruction of their enclaves and camps by the Nigerian military airstrikes and ground bombardment; and the outbreak of killer diseases together with food scarcity, which have badly hit the terrorists. In fact, there are many ISWAP and Boko Haram members that are willing to surrender as soon as possible but the military and other security services will ensure the needful is done for national security."
(PR Nigeria, Reuters, The Nation Online)
Share this