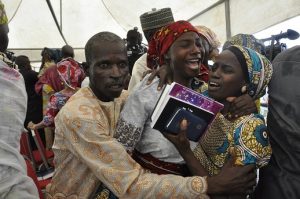 The 21 Chibok schoolgirls released by Boko Haram on 13 October were reunited with their families at a thanksgiving service on 16 October.
A thanksgiving service was organised for the 21 released Chibok girls at a Department of State Services health facility in Abuja on Sunday 16 October. At the service, the girls held up Bibles to signify their freedom of worship, having been forced to convert to Islam by their kidnappers.
As parents arrived at the venue they were reunited with their released daughters, and the room was filled with cries of joy. Many parents rolled on the floor when they saw their daughters, and some bust into tears. There was sadness, too, as the service was attended by some parents whose daughters remain in captivity. Also, at least 14 parents have died since their daughters were kidnapped – one of them was shot dead by Boko Haram militants in a raid on his village in September.
Gloria Dame, one of the rescued girls, gave testimony on behalf of the others. She said that their survival was an act of God: "I did not know that a day like this would come when we would be dancing and giving thanks to God among people. For one month and ten days we stayed without food. I narrowly escaped bomb blast in the forest." She added, "We are praying to God to touch the heart of Boko Haram to repent and we are calling on Nigerians to pray and fast for the release of our remaining ones in captivity."
One of the parents, Ruth Markus, mother of Saratu, commented afterwards, "I felt like it was the day that I born her into this world. I danced and danced and danced."
Leader of the Senate Ali Ndume described the event: "The government organised a get-together; there was a musician, a canopy was erected and foods were served. There were non-governmental organisations and volunteers on the ground. It was very interesting that everybody was there; psychologists, psychiatrists, health workers and social workers."
Amongst the many speakers, Yakubu Nkaki, Chairman of Abducted Chibok Girls' Parents Association, said that from the physical appearance of the girls it was obvious that they had not been radicalised, as claimed by some people. He also debunked the claim that many of the girls were pregnant.
Minister of Information and Culture Alhaji Lai Mohammed appealed to commentators and analysts to refrain from making statements that could jeopardise the release of the Chibok girls who remain in captivity. Addressing the thanksgiving service, he said: "There are many reckless analysts and commentators who are not helping the situation. We still have many of our children in captivity. Therefore, we have to be careful with the kind of comments that we make. We must not make comments that will make the release of these girls difficult or impossible."
Eleanor Nwadinobi, Women and Girls manager at the Nigeria Stability and Recognition Programme, said the girls will now undergo treatment tailored to their individual needs, including trauma counselling and health and nutritional assessment.
Mother and baby
Salman Gaphani, father of released student Deborah, who has a baby boy, said his daughter had just got married and was pregnant when she was abducted. Deborah had earlier finished her secondary school education and was at Chibok Government School to re-sit her exams when she was abducted.
He said, "Unlike the others, Deborah had already finished her secondary school. She did not make her papers and returned to re-sit her West African Senior Secondary Certificate Examinations when she was taken. She just got married two weeks before returning for her papers and they took her; her husband has remarried now. They abducted her while she was pregnant and she had my grandchild there, but I'm just grateful to God and the government for returning my daughter and grandchild to me safely; words cannot describe how I feel at the moment."
Early reports that many of the released girls have babies are now thought to be incorrect. Community leader Pogu Bitrus, chairman of the Chibok Development Association, said the freed girls (who had chosen slavery over marriage) were not sexually abused. He said only one of them had a baby but that her parents have confirmed she was pregnant when kidnapped.
Meeting President Buhari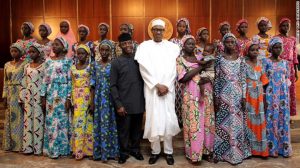 On Wednesday 19 October, the released girls met President Buhari at the Presidential Villa – he had not been able to attend Sunday's thanksgiving reunion as he was abroad. One of the girls, Rebecca Mallum, was chosen to thank the President and address the crowd. As she rose, she burst into song and the other girls stood to join her.
Rebecca said, "We are happy to see this wonderful day because we didn't know we would come back to be members of Nigeria. Let us thank God for his love. Let us pray for the rest in the Sambisa now. Let God help us to be together."
How many Chibok schoolgirls remain missing?
Of the 276 Chibok schoolgirls kidnapped in April 2014, 57 escaped by jumping from the trucks taking them away. One girl (Amina Ali) was found and rescued in May 2016 link, and 21 were released on 13 October. This leaves 197 girls still missing, and it is feared that several of them are dead – Amina Ali reported that six had died in captivity. Of a group of about one hundred girls held together, one died of a snake bite, one died in childbirth and four died in a bombing.
Boko Haram commanders have claimed that some girls were killed when Nigerian army planes bombed their bases.
Hopes for further negotiations
On Sunday 16 October, the government's Senior Special Assistant for Media and Publicity, Malam Garba Shehu, said a Boko Haram faction is willing to negotiate the release of 83 more girls. He said, "These 21 released girls are supposed to be tale bearers to tell the Nigerian government that this faction of Boko Haram has 83 more Chibok girls. The faction said it is ready to negotiate if the government is willing to sit down with them." He added that the federal government would negotiate with the Boko Haram faction.
Over the weekend, Boko Haram commanders said the girls were freed to prove good faith and that more will be released if demands for cash and an exchange of prisoners are met.
The government has denied reports that the released girls were swapped for four Boko Haram commanders, or that a large ransom was paid.
Two groups: wives and slaves
It is thought that the negotiations will only be for 83 girls because they constitute the group (along with the released girls) that refused to join Boko Haram and marry its fighters.
The released girls say all the kidnapped Chibok girls were separated into two groups early in their captivity, when Boko Haram commanders gave them the choice of joining the fighters or becoming their slaves. They say they never saw the other girls again. The mother of one of the released girls said her daughter refused to marry a Boko Haram fighter and was told she would be killed, but in the end was given 100 lashes.
Those who refused were put to washing, fetching water and cooking for Boko Haram. They lived in grass huts and were forced to convert to Islam. A parent said the girls were forced to build their own basic shelters, using plastic bags for roofing.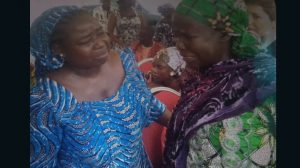 At first the girls ate rice and maize, but then food became scarce. At Sunday's reunion, people from Chibok said the released girls looked gaunt. "They've just become like skeletons," said Yana Galang, mother of a still-missing daughter, Rifkata. (Yana is pictured being comforted at the reunion.)
It is thought that the other 114 girls are dead or have been radicalised and do not want to leave their Boko Haram husbands. A Boko Haram commander told Vanguard newspaper on Sunday that about ninety of the students "had since become Boko Haram members, having been married off and radicalised… as soon as they were captured over two years ago".
Community leader Pogu Bitrus, chairman of the Chibok Development Association, says more than a third of the students abducted seem unwilling to leave their captors. He says they may have been radicalised or else fear that because they were forced to marry extremists and have children they will be labelled "Boko Haram wives".
He said the released girls should be educated abroad, explaining: "We would prefer that they are taken away from the community and this country because the stigmatisation is going to affect them for the rest of their lives. Even someone believed to have been abused by Boko Haram would be seen in a bad light." He said girls who escaped during the raid in 2014 faced taunts and insults in Chibok and were labelled "Boko Haram wives", and added that at least twenty of them are being educated in the US.
The likelihood of stigmatisation was confirmed by Mausi Segun, a researcher in Nigeria for Human Rights Watch, who said many of the girls who escaped during the raid had to leave Chibok because they were seen as Boko Haram wives even though they never got as far as the Boko Haram camp: "Some never even went back to Chibok and some left very shortly after returning." Regarding the released girls, Mausi Segun said it was unlikely they would be able to return to Chibok, saying: "Any sign that there has been sexual contact with any man, and these men are Boko Haram, will cause a backlash. The likelihood they will return home is slim."
Thousands of women have been abducted by Boko Haram in recent years, and those who have been released or have escaped have faced discrimination and stigma.
Rev Soja issues statement
Rev Dr Soja Bewarang was guest speaker at the annual Church in Chains conference last month. He is Chairman of the Christian Association of Nigeria (CAN) Plateau State Chapter and has issued a statement on behalf of the Chapter:
"The Church on the Plateau joins many well-meaning Nigerians to first and foremost thank God and to congratulate President Muhammadu Buhari as well as commend the gallant efforts of the Nigeria Armed Forces, the International partners and all those who were involved in negotiation resulting to the release of twenty-one Chibok Secondary School girls abducted more than two years ago.
"CAN rejoices with the parents and in particular the girls and the Chibok community on what could be described as; "now the dream come true". CAN feel and can only imagine the feelings of the parents whose daughters are yet to be released. We trust that the continued negotiation will result to release of the remaining girls so that the joy of all Nigerians, the parents and Chibok community will be complete. It was gratifying to watch the joy and tears of Nigerians when a church service was held in thanksgiving and praise to God for the release of the girls.
"It was good to watch the girls in their normal dresses and to accept that the abducted girls were Christians that were forcefully dressed to appear as Muslims."
(Al Jazeera, Christian Association of Nigeria, CNN, Guardian, New York Times, Punch, Vanguard, World Watch Monitor)
Share this