Christians across Nigeria protested peacefully on 29 April against continuing Fulani violence, following the massacre by Fulani militants of two priests and 17 parishioners in Benue state on 24 April. Public marches were held across most states and by many denominations, although Christians in less secure areas had to restrict their protests to church compounds or buildings, and some churches opted for prayer vigils.
On 25 April, the Christian Association of Nigeria (CAN) had issued a call for nationwide protests to be held on Sundays 29 April and 6 May. CAN President Rev Olasupo Ayokunle said, "CAN urges Christians in Nigeria to hold peaceful protest on the set aside date, on the premises of their churches, asking the Federal Government and security agencies to stop the unending killings and bloodshed in the country."
Nigeria's Middle Belt is experiencing widespread violence as Muslim Fulani herdsmen increasingly use military-grade weapons to drive largely Christian farmers off grazing land. In recent years, thousands of Christians have been killed and their properties looted and burned, including hundreds of church buildings. In 2015, the Global Terrorism Index described the Fulani as the fourth-deadliest terrorist group in the world.
In southern Kaduna, Plateau, Taraba and Benue states, Fulani herdsmen have displaced whole communities and taken over their farm land. In 2016, the herdsmen carried out more attacks and were responsible for more deaths in Nigeria than Boko Haram.
Massacre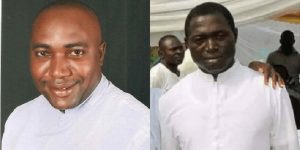 The massacre of 24 April began at about 5.30 am, when the congregation had gathered at St Ignatius Catholic Church in Ukpor-Mbalom, Gwer East Local Government Area, in the Middle Belt state of Benue. About thirty armed men, believed to be Fulani herders, stormed the building and killed 19 Christians, including priests Joseph Gor and Felix Tyolaha (pictured). Several others were left with bullet wounds. The attackers then looted and set fire to sixty local properties, including houses and barns, and fled.
The next day, about 65km from Gwer East, another Fulani attack left at least 39 people dead. More than 160 houses were torched in overnight attacks on the predominantly Christian villages of Tse-Umenge, Mbakpase and Tse-Ali in Benue's Guma area. Dozens more Christians were wounded. The herdsmen were reportedly dressed in military camouflage and armed with AK-47 weapons.
On 26 April, at least seven people were killed when suspected Fulani herdsmen attacked another church in Benue state. In the early hours of the morning, armed herdsmen stormed the African Church in Mbamondo village, Logo Local Government Area, and opened fire on displaced people who had taken refuge there. The attackers also set fire to many local houses.
Reacting to the recent violence, Benue's deputy governor Benson Abuonu said the state is "under siege".
President Buhari criticised
Nigerian Christian leaders of many denominations have accused President Buhari, a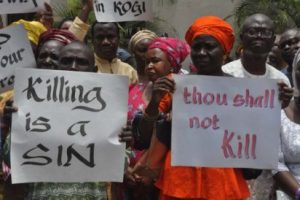 Fulani Muslim, of failing to prevent the ongoing attacks or prosecute attackers.
In a press release on 27 April, CAN called on President Buhari to take immediate steps to permanently dismantle the Boko Haram and Fulani militias, and stated: "The bottom line is that President Buhari failed woefully to protect Nigerians."
On 26 April, Nigeria's Catholic bishops accused the president of ineffective leadership and asked him to resign, stating: "Whether this failure is due to inability to perform or lack of political will, it is time for him to choose the path of honour and consider stepping aside to save the nation from total collapse." The bishops also criticised the security agencies for failing to protect churches and Christian villages.
On 25 April, Nigeria's House of Representatives summoned President Buhari for questioning about the recent violence, and then suspended sitting for three days in solidarity with Nigerians over the killings. The National Assembly passed a vote of no confidence in the service chiefs for the armed forces and all the security advisers to the president.
President Buhari visits the White House
At a joint press conference with President Buhari at the White House on 30 April, President Trump spoke up for Christians under attack in Nigeria.
Although he did not mention the Fulani by name, he said: "We are deeply concerned by religious violence in Nigeria including the burning of churches and the killing and persecution of Christians. It's a horrible story… We encourage Nigeria and the federal state and local leaders to do everything in their power to immediately secure the affected communities and to protect innocent civilians of all faiths including Muslims and including Christians."
President Trump also referred to the continued efforts to rescue victims of the Chibok kidnappings, and praised President Buhari's efforts to fight Islamic State and Boko Haram.
(Associated Press/Christian Solidarity Worldwide/Christianity Today/Morning Star News/Punch/Vanguard/World Watch Monitor)
Share this