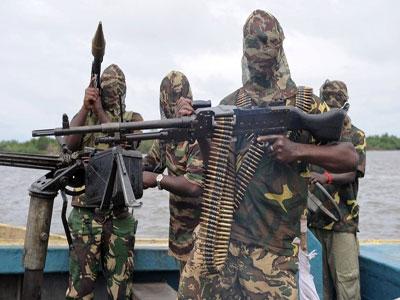 On Friday 17 October, Nigeria's chief of defence, Air Chief Marshal Alex Badeh, announced a ceasefire between militant Islamist group Boko Haram and government forces.
The announcement followed a month of negotiations, mediated in Saudi Arabia by Chadian president Idriss Deby and officials from Cameroon, two countries that border northeastern Nigeria. Many commentators view the announcement with caution, including security analysts and those with knowledge of previous negotiation attempts. Boko Haram has not confirmed the truce, and its leader Abubakar Shekau previously stated that the violence would not end until strict Sharia law is imposed across northern Nigeria.
There has been scepticism about the claims of Danladi Ahmadu, who calls himself Boko Haram's secretary-general and chief of security. He told the Voice of America news service that a ceasefire agreement had been reached, and claimed to have been involved in talks to broker the deal. However, Nigerian journalist Ahmed Salkida, who has had high-level contacts among the group's leaders, said: "Danladi Ahmadu is NOT part of the Boko Haram ruling council, nor does he speak for them, as far as I know."
A soldier in Borno state, the centre of Boko Haram activities, said no ceasefire order had been received: "We heard there was a ceasefire through people who had seen it on the internet and called to ask us about it. But we on the ground, we've had no word on that from our commanders."
Since the announcement many more people have been killed in at least five attacks, blamed by security sources on Boko Haram insurgents. Scores of Christians were reportedly killed and several churches burned down in raids on Pelachiroma and Chung villages in the Gombi local government area of Adamawa state on Sunday 19 October, and there were reports that Boko Haram extremists killed several Christians in an attack on Gava 111 village in the Gwoza local government area of Borno state on Saturday 18 October.
Talks were scheduled to continue in Chad on Monday 20 October.
Reports of agreement to release kidnapped schoolgirls
The ceasefire announcement also stated that Boko Haram would release the schoolgirls who were kidnapped six months ago from a secondary school in Chibok, a predominantly Christian village in northeastern Nigeria. About 276 girls were kidnapped; some escaped, but 219 remain in captivity. Abubakar Shekau previously offered to release the schoolgirls in exchange for jailed militants, but the government rejected the suggestion.
Mike Omeri, coordinator of Nigeria's National Information Centre, said in the Guardian on Sunday 19 October, "I wouldn't want to speculate about a date – it could be next week or the week after – but we're inching closer to securing the release of the girls. We will have further meetings next week. There's no conclusion but there is a general understanding on which basis a ceasefire was reached."
Also on Sunday 19 October, a security source said that the girls are now being held in camps scattered around the desert border with Chad, a vast lawless area with little government reach from either Nigeria or Chad.
Cautious reaction
This is not the first time that the government has announced the imminent release of some or all of the kidnapped schoolgirls. The military backtracked from such a statement in September, while in May Australian mediator Rev Dr Stephen Davis came within 15 minutes of gaining the release of some of the girls, before the deal collapsed.
"These kinds of claims have been made a number of times before," said Shehu Sani, a lawyer and civil rights activist who has been involved in previous talks.
Rev Samuel Dali, President of the Church of the Brethren in Nigeria, or EYN Church, told World Watch Monitor, "Based on experience of what we have seen and what the Nigerian government has been saying, we need to see the practical effect of what they are saying, not just a statement on the news. The Nigerian government used to say the same kind of things and nothing happened. I don't want to be sharing this kind of deceptions for many, many times again. I only want the practical. I prefer to wait and see, because I don't trust Nigerian politicians and what they are saying. I don't trust them at all."
Many observers view the announcement as politically motivated, as President Goodluck Jonathan is expected to announce that he will stand for re-election in the coming weeks and news of an end to the insurgency and release of the kidnapped girls could provide a boost for him and his ruling People's Democratic Party.
(AFP, Guardian, News 24, Release International, Reuters, World Watch Monitor)
Share this