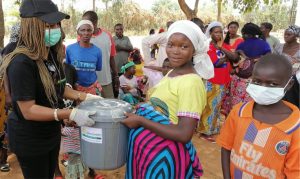 Stefanos Foundation, a Church in Chains partner, has begun distributing aid to needy Christians in Plateau state in Nigeria. The state has been under lockdown because of the coronavirus since 10 April and Christian victims of recent violent attacks have received no government aid.
A team from Stefanos distributed relief packages to families who lost loved ones and homes in attacks by Fulani militants in recent weeks in Bassa Local Government Area of Plateau state in Nigeria's Middle Belt.
The aid packages, funded by Church in Chains, were packed in buckets. Each bucket contained rice, beans, vegetable oil, garri (flour grains which can be mixed with water), maggi (widely-used cube of pressed spices), salt, sugar, tomato paste and also some clothing and shoes.
Mark Lipdo (Director of Stefanos) said: "It was an emotional moment yesterday [Sunday 19 April] when a team from Stefanos Foundation visited some victims of the recent attacks. The victims who came out in their numbers warmly received the team as they sat patiently to listen to them."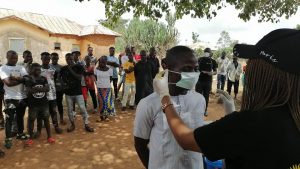 The team explained the purpose of the visit and sympathised with them for losing their homes and loved ones.
The team also gave basic health advice on how to keep safe from the coronavirus pandemic emphasising the need to observe social distancing. They also stressed the need to strictly follow government directives in observing the current lockdown in the state.
Among the people who received the items was Rose Matthews (pictured), widow of late pastor Matthew Tagwai who was killed in an attack on 8 April. Rose, who is currently seven months pregnant, is left with two young children to care for. She could not hide her emotions as she spoke to Stefanos Foundation about the loss of her husband and her fear of not knowing how she can take care of them.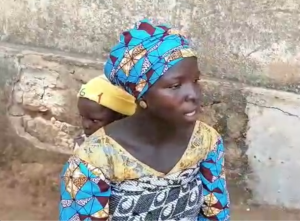 "Before this incident, my husband wanted to rent a house in another village [Kwall] as a result of the constant attacks going on in our communities and he said it is better that I come over here and stay for like two days before going back to see him because it is better he stays back alone and we stay here in Kwall for our safety. But as he was making such plans, this incident suddenly happened and his life was cut short… Now I am just here, waiting to see what God will do with me. I don't know what to do. My husband was my strength. Now I totally depend on God to see what He will do with me. My first child is now in Jos. She will be six years old in May. She is staying with my older sister."
The team also met with the parents of three young children killed on 24 March in another attack in Ngbra-Zongo, also in Plateau state.
The team prayed with the victims before returning to Jos, the state capital.
Covid-19 in Nigeria
The spread of Covid-19 in Nigeria has been limited to the largest city, Lagos, and some other states with high population density. Thus far, 873 cases have been reported and just 28 deaths. The lockdown in Plateau state (announced on 10 April) has been mainly preventative and no cases have been detected yet. However, great hardship has been caused to many poor citizens of the state such as daily wage labourers whose jobs suddenly ended and who were left with no other means of support. Government aid has been widely criticised for being too little, too slow and not reaching the very poor.  No government aid has been given to address the needs of the already vulnerable, especially the internally displaced persons in different camps (many of them Christians fleeing from the violent attacks of Fulani militants).
Health experts have raised alarms over the impact of a major coronavirus outbreak in Nigeria, warning that the country's unprepared and underfunded healthcare system could quickly become overwhelmed.
Stefanos Foundation
Stefanos Foundation has been helping victims of violence for close to two decades, responding to distress calls, helping to rebuild destroyed houses and providing temporary shelter where needed. It offers aid relief and trauma healing and advocates on behalf of the victims of violence at local, national and international levels.
Church in Chains sent an initial grant of €3,000 from its Covid-19 Appeal Fund to Stefanos to support this aid distribution. It is also distributing funds to partners working to meet urgent needs in Pakistan, India and Eritrea that have arisen as a result of the Covid-19 Pandemic.
 Details of how to support the relief appeal are here.
(Stefanos Foundation/Al Jazeera/Itedgenews/Johns Hopkins University)
Share this