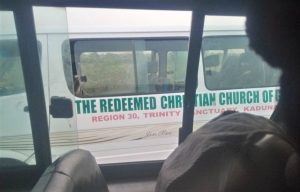 Eight missionaries from the Redeemed Christian Church of God (RCCG) were abducted on Friday 26 March when gunmen intercepted their minibus 63 km from Kaduna city. The Christians were on their way to Kafanchan in southern Kaduna state on an evangelistic mission.
Gunmen believed to be militant Fulani herdsmen stopped the minibus at around 7 pm local time, took the eight missionaries into the bush and later contacted the church leadership to demand a ransom of 50 million naira (€112,000).
The above photo – taken and posted on Facebook by eyewitness Eje Kenny Faraday, who was travelling along the Kaduna-Kachia highway when he saw the incident – shows the empty vehicle after the Christians had been taken away. An RCCG spokesperson said that those abducted were adult missionaries, male and female, from Kaduna Province going to Kafanchan for prayer work.
"Please pray for my dad and other RCCG missionaries who were kidnapped by Fulani herdsmen on the evening of Friday, March 26," church member Ifedun Richard told Morning Star News by text message on Saturday.
A senior pastor at RCCG headquarters in Lagos, Leke Adeboye, released a statement saying a service by Zoom was organised for Sunday 28 March for its churches around the world to pray for the release of the captive church members.
Police Public Relations Officer Mohammed Jalige told journalists that Kaduna state police command is leaving no stone unturned in its attempt to arrest the criminals who carried out the abduction. He said the command is working closely and tirelessly with the leadership of the RCCG in the state to rescue those kidnapped alive.
Kaduna state is in Nigeria's Middle belt, where Islamist militants have killed at least 240 Christians since the beginning of July 2020. The northern part of Kaduna State is mainly Muslim and the south is mainly Christian.
(Barnabas Fund, International Christian Concern, Morning Star News)
Share this