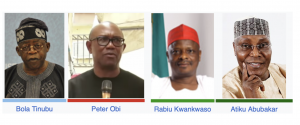 On Saturday 25 February, the first round of Nigeria's Presidential election will be held. If no candidate gains an overall majority and more than 25 percent of the votes in at least 24 of Nigeria's 36 states, the election will be decided by a run-off second round of voting to be held within three weeks.
The Christian Association of Nigeria has expressed alarm at the Muslim-Muslim election ticket of the governing All Progressives Congress party (traditionally, to demonstrate national unity, the Presidential candidate for each main party has been a Muslim from the north with a Christian vice-presidential running mate from the south or vice-versa). Some Muslim clerics have described the Muslim-Muslim ticket as "defining the supremacy of Islam".
An opinion poll in mid-February showed Peter Obi (Labour), an ethnic Igbo Christian from the long-marginalised southeast, well out in front on 62 percent followed by Bola Tinubu (All Progressives Congress) on 22 percent; Atiku Abubakar (Peoples Democratic Party) on 12 percent and Rubiu Musa Kwankwaso (New Nigeria People's Party) on 3 percent.
The polling company commented: "While enthusiasm for Obi is said to be driven by younger voters, majorities of voters across all age groups say they intend to vote for Obi. Peter Obi is the only major candidate in the upcoming election who is viewed favourably by a majority of Nigerian voters.
Elizabeth Kendal (Religious Liberty Prayer Bulletin) who has been analysing the situation stated: "Peter Obi's campaign has not been without its challenges. In recent weeks several of the Labour Party's Northern Muslim gubernatorial and state assembly candidates have abandoned Obi and Labour and defected to the APC and PDP, both of which are running Muslim candidates. The defecting candidates accuse Obi of running a non-inclusive campaign and pandering to the Igbo, something his campaign and his supporters deny. Ndi Kato, a spokesperson for Obi's campaign, told The Africa Report (15 Feb) that she does not believe the high-level political defections will have any impact on the polls. 'Our foot soldiers are the people of Nigeria. They are volunteering this election is between the people and the political class.'
"This is an election between the people (i.e. those who have been impoverished) and Nigeria's political and military elites (i.e. those who profit from systemic corruption). However, it will also be fought between those advancing ethnic (e.g. Fulani) and/or Islamic hegemony, and those demanding religious freedom and tolerance, education and jobs, health, peace and prosperity."
Earlier in February, Dr Khataza Gondwe of Christian Solidarity Worldwide told a Church in Chains online prayer meeting: "Nigeria is on the verge of the most momentous elections in its history, which will determine whether or not it will descend violently into a failed state.
"The outgoing administration of President Buhari has overseen a decline in political freedoms and also intensified Nigeria's differences in ethnicity, religion and wealth disparity. Many governmental appointments have favoured northern Muslims and undermined national unity. Nigerians of all faiths and none are currently being terrorised by a collection of armed terrorists: Islamic State West Africa Province (ISWAP, which defeated Boko Haram), Boko Haram remnants and armed bandits mainly of Fulani origin. The Buhari regime has seemed unwilling to address violence facilitated by those of his ethnicity and religion."
An estimated 5,000 Christians were killed in Nigeria in 2022.
(Christian Solidarity Worldwide, Religious Liberty Prayer Bulletin)
Share this